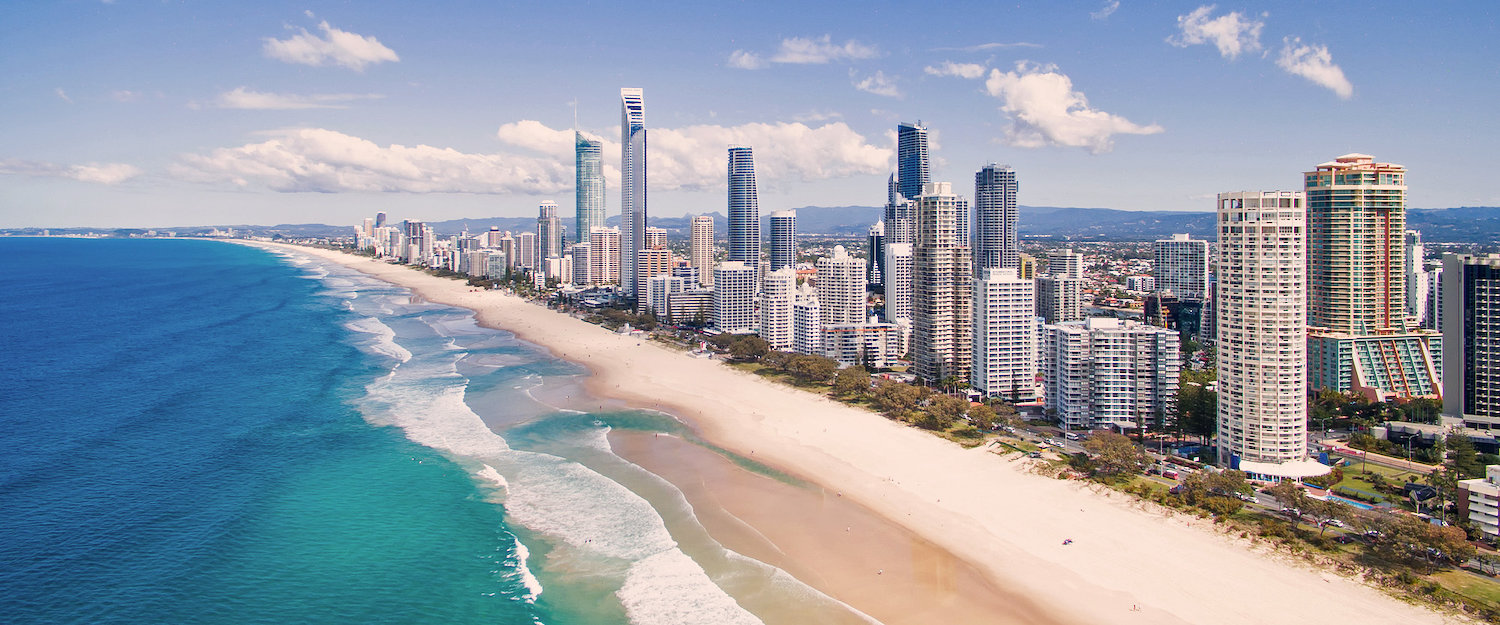 Other property types in Gold Coast that might be interesting:
Prices and availability
Current Holiday letting prices in Gold Coast
€385 annual average
Jun
Jul
Aug
Sep
Oct
Nov
Dec
Jan
Feb
Mar
Apr
May
Average price per week
Current holiday letting availability in Gold Coast
45% annual average
Jun
Jul
Aug
Sep
Oct
Nov
Dec
Jan
Feb
Mar
Apr
May
Percentage of available rentals
Holiday homes and rentals on the Gold Coast
Modern holiday homes with incredible sea views
Searching for a gorgeous holiday home far away from the chaos of city life to have a good time in the relaxing Australian's beaches? Gold Coast has an enormous range of charming and recently renewed home in Brisbane, Mount Tamborine, Burleigh Heads, Broadbeach, Upper Coomera and Surfers Paradise, within easy access to the city's crystalline beaches. Whether you like better passing time resting in heavenly and charming cottages or if you're feeling energetic, Holidu has just what you need. There are broad ranges of holiday homes in the gorgeous Gold Coast. An excellent occasion to purely reconnect with nature and enjoy the warm subtropical climate.
Cosy holiday homes adapted for all tastes
Ideal for families, couples or even backpackers, the Gold Coast offers an extensive amount of home to choose for, plenty of them maintain the warming coastal vibes with contemporary frontages, leafy gardens and spacious balconies with heavenly sea views. Remodelled contemporary design home that provides all comforts for everyone. From vintage installations or instead fancy modern ones, your whole demands will be satisfied; lodging for the whole group, flats with balcony, terrace and private pool, and of course is all family-friendly. Sounds attractive? Why wait any longer?
Holidays on the Gold Coast
The area and getting around
The best attractions to enjoy your holidays
Gold Coast is a paradise for surfers and has endless water activities to do. It is a fantastic metropolitan city located on the east coast of the state of Queensland, very close to Brisbane, in eastern Australia. It is world-famous for its kilometre long beaches, the main one being Surfers Paradise, which stretches along more than 60 km of golden sand, prominent waves, and crystal clear waters, where tourists can find multiple cafés, bars and shops to enjoy at the same time to maximize this coastal experience. There are certainly plenty to do, from enjoying the sunrise in Burleigh, fishing off Main Beach, or surfing with the pros at Snapper Rocks, there are plenty of activities for you to have a great beach holiday.
From mind-blowing paradisiacal beaches to lush forest for hikers
At the southern tip of the Gold Coast, is the town of Coolangatta and its neighbouring Greenmount Beach, where you can surf from high level as this area has a particular swell, especially around Greenmount, Snapper Rocks and in Duranbah. From Coolangatta, approximately 40 km of tourist businesses, restaurants, cafés and bars begin; and paradisiacal beaches that extend north to Southport and Surfers Paradise, one of the most spectacular and famous beaches that the Gold Coast offers, and it is often said that its waves are the best on the planet. To the west of the city, 75 km south of Brisbane, is the astonishing Lamington Park national park, declared a World Heritage Site, for its impressive geological characteristics, since inside it houses 500 waterfalls and, Gondwana rainforests, volcanic craters And countless Australian wildlife species in danger of extinction, this is certainly an idyllic destination for hikers.
Travellers and activities
Gold Coast for beach lovers
Gold Coast is one of the most impressive places in Australia to enjoy beautiful beaches; Whether you prefer to surf, paddleboard, swim, or relax on the sand; Gold Coast, has everything that any tourist could wish for. From Snapper Rocks, home to annual surfing competitions, it is part of an artificial surf break that offers one of the longest and hollowest waves in the world; to Rainbow Bay, ideal for families to enjoy, with waves suitable for both beginners and experienced surfers; and from Currumbin Beach, a great place to learn to surf, protected from the southern land winds; to Burleigh Heads, perfect for swimming, surfing or ocean front dining and visiting native markets in the area. Of course, you should not miss visiting other extraordinary beaches such as Tallebudgera Creek, Surfers Paradise or Kirra Beach.
Gold Coast for adventurers
The Gold Coast not only has lovely beaches, it is also famous for its amazing Scenic Rim Forest, which is home to lush mountain ranges, rainforests, a volcanic caldera, and luxury cabins inside. It is undoubtedly an excellent place to experience an adventure, hike trails, plunge into natural rock pools, and relax under the stars. Once there, you can explore the ancient rainforest of Lamington National Park, enjoy an eco-retreat at Spicers Canopy, or have a luxurious glamping experience at Nightfall.
Did you know that Gold Coast is the most biologically diverse city in the world, home to more than 1,300 species of animals and 1,700 species of plants?
Top 5 travel tips on the Gold Coast
1. Get to the top of "Q1",
One of Australia's most spectacular buildings is "Q1", located on the Gold Coast. It is the tallest building in Australia and the eighth tallest in the world, at 322.5 meters high, it has the peculiarity that it allows visitors access to its top floor, the 78th floor, where there is a sky point or a viewpoint that will leave you speechless.
2. Meet the amazing fauna in the Currumbin Wildlife Sanctuary
In the natural park Currumbin Wildlife Sanctuary you can be in contact with the Australian fauna up close and meet kangaroos, crocodiles, dingoes, emus, and even some quokka, Australian animals in danger of extinction. It is one of the most charming places to visit in the Gold Coast, where you can also learn about the history of the aborigines, their traditions, their gastronomy or their dances. It has no waste! "
3. Live the adventure in the theme parks
One of the wonders of this city are the various activities that can be done in it. On the Gold Coast, there are 4 amusement parks to visit. The Sea World is a park where you can meet marine life; the Warner Bros Movie World, is an ideal film park for film lovers; the famous Dream World, popular for its fast-paced and fun attractions; as well as the Wet 'n' Wild, a water park with a pool with giant waves, unmissable!
4. Admire the works of art in the City Art Gallery
One of the most interesting museums in the Gold Coast is the City Gallery, in which local, national and international works are exhibited, as well as collections of contemporary and historical works illustrating the history of the city of Gold Coast. In addition, inside the museum there is a cafeteria to enjoy a delicious snack.
5. Tour the Tamborine Rainforest Skywalk.
One of the incredible places to see in the Gold Coast to enjoy nature at its best is the Tamborine Rainforest Skywalk. Here you can walk for 45 minutes along a walkway erected on top of tropical trees, 15 meters above the ground! In addition to all this, you can visit the luminous caves of Glow Worm Caves, it is quite an experience!
FAQs: Holiday Homes & Rentals in Gold Coast
How much does it cost to book a holiday rental in Gold Coast?
The coronavirus has severely impacted the travel industry. Based on our 2020 data, Gold Coast has an annual average price of €246.69 per night.
When are holiday rentals cheaper in Gold Coast?
Travellers who want to save as much as possible should visit Gold Coast in February, March, and November which are the months that offer the best prices, with average prices of €205.5, €211.03, and €212.03 per night, respectively, based on data collected in 2020.
In which months is it more expensive to rent a holiday letting on the Gold Coast?
Following the data observed in 2020, the cost per night for accommodation is usually higher, on average, during the months of January (€299.06), September (€289.84), and August (€267.23).
Are there usually many holiday rentals available on the Gold Coast?
So you don't run out of accommodation options on the Gold Coast, we recommend you to be proactive, as 77% of rentals are usually booked, according to last year's data.
What time of the year can I find more available holiday rentals?
June, July, and August are, in order of highest to lowest, the months offering the largest number of accommodations available, with respective average availability figures of 44%, 36.5% and 31.4%.
When are there fewer rental options available in Gold Coast?
Holiday rentals on the Gold Coast reach their peak in demand in December, with an availability rate of 10.5%. The second most requested month is April, with 11.25%, and the third is January with 12.2%.
How many holiday homes are there on the Gold Coast?
Holidu has paired up with 4 different partners to give you a choice between 2000 properties we have on the Gold Coast.
Holiday destinations nearby
Holidu compares hundreds of websites to find your perfect holiday letting for the best price.