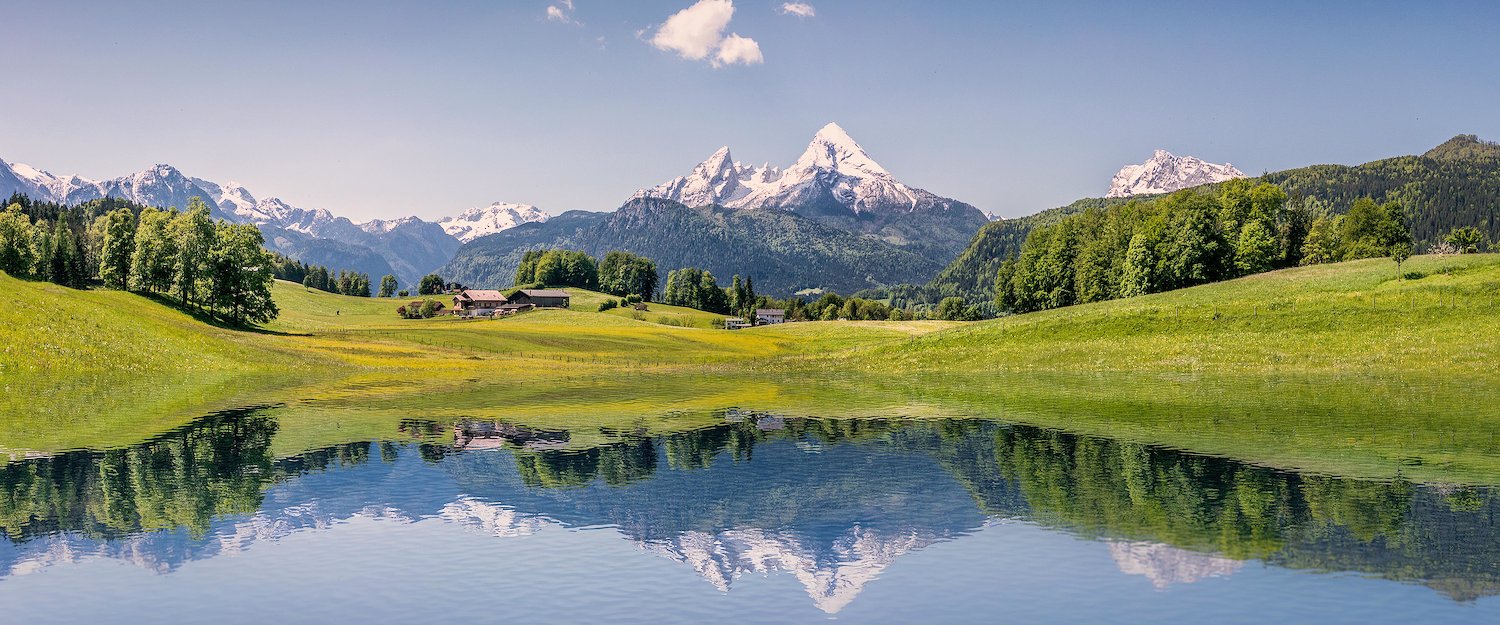 Popular Destinations in Bavaria
Prices and availability
Current Holiday letting prices Bavaria
€165 annual average
Oct
Nov
Dec
Jan
Feb
Mar
Apr
May
Jun
Jul
Aug
Sep
Average price per week
Current holiday letting availability Bavaria
52% annual average
Oct
Nov
Dec
Jan
Feb
Mar
Apr
May
Jun
Jul
Aug
Sep
Percentage of available rentals
Types of holiday homes in Bavaria
Thousands of rentals with all the comforts in full nature
Are you thinking of travelling to Bavaria on your next holiday? Holidu puts at your disposal a magnificent search engine of holiday homes between private individuals so that finding your tourist home or house in Bavaria is comfortable, quick and easy. We have thousands of accommodation options throughout the country, with rentals being the most abundant alternative. Specially located in the areas of Munich, Obertsdorf, Garmisch and Bischofswiesen. Most of the rentals in Bavaria are those that have space for 2, 4 and 6 people, but you will also find some with more capacity if you decide to come with a large group of friends. Almost all have a garden or terrace, from where you can enjoy the wonderful views of the mountains and the surrounding landscapes. Some even have a swimming pool, so they're perfect if you decide to organise your holidays in July and August. And if you come by car or have already rented one for your stay, you won't have to worry about finding a place to park it, as most rentals in Bavaria have their own garage.
Magnificent houses in German architectural style
Are you looking for a charming house to feel like an authentic local? On Holidu we also have a wide range of cheap houses in Bavaria where you can enjoy an unforgettable holiday. Beautiful wooden constructions with gabled roofs surrounded by magical forests where you can walk and completely forget the hectic pace of urban life. With large balconies where you can enjoy the good weather on sunny days. You will find houses in Bavaria scattered throughout the territory but especially in the areas of Steingaden, Ruhpolding and Geiersthal. An ideal option for nature lovers and active tourism enthusiasts who enjoy discovering unique landscapes. What are you waiting for to book your house in Bavaria?
Why book a house in Bavaria?
Bavaria is Germany's most recognisable region. Picturesque, independent, sunny and full of contrasts and, perhaps, the one with the most personality in this country full of big rivers and modern cities. So it's no wonder it's Germany's number 1 holiday and travel destination. A white-blue sky, crystal-clear seas, small villages that look like fairy tale towns, vibrant cities, magical forests, snow-capped peaks, Bavarian customs, warm hospitality, an impressive cultural offer and endless outdoor activities. Intact nature and cultural richness that you will be able to discover through numerous tourist routes such as the romantic one, the one of the castles or the one of the Alps. Landscapes dotted with picturesque medieval towns and residential cities that stand out for their beautiful palaces and churches, their beautiful monasteries and imposing castles. And that's what makes thousands of travellers decide to rent a home or a house in Bavaria year after year to enjoy their holidays. Do you need more reasons to choose it as a destination?
Holidays in Bavaria
The area and how to find your way around
Bavaria: the charm of southern Germany
Bavaria is one of Germany's southernmost regions. It borders other countries such as Austria. Especially important are the elevations of the Alps that rise south of Bavaria, an area that serves the border between Germany and Italy and is visited annually by many travellers seeking the beauty of its landscapes. Bavaria is made up of various areas arranged in the form of provinces. Road communications are excellent, which is especially noticeable around cities such as Augsburg or Dachau. The most important airport in the region is Munich. The main capitals have subways and the medium-distance train service is ideal for covering the entire area.
The best areas to rent a house in Bavaria
Holiday homes in Bavaria will give you the opportunity to enjoy an unforgettable holiday. The big cities located in the German region, such as Munich or Nuremberg are ideal for you to find those holiday homes that make you feel very comfortable while exploring the area. Other towns surrounded by incredible landscapes such as Berchtesgaden are ideal to find cosy houses and even some farms willing to make you spend a holiday in which nature will be the protagonist.
Types of travellers and activities
Bavaria for nature lovers
Bavaria is a region with natural landscapes that are hard to forget. So, if you are passionate about outdoor sports or if you simply want to enjoy forests and high mountains you should not miss visiting some of the following places. One of the most interesting areas is in the extreme east of the region. This is the Bavarian Forest National Park, a corner covered by high and ancient forests that will serve to lose you through natural trails of great beauty. At the other end is Lake Constance, a place to enjoy water sports thanks to one of the largest bodies of water in the interior of Europe. Book your home in Bavaria today and come and enjoy these wonderful places on your next holiday!
Bavaria for those who enjoy monumental visits
To discover the monumental essence of Bavaria it is necessary to visit some of its main cities. Apart from the buildings you will find in Munich or Nuremberg, a visit to the city of Bamberg will show you the most monumental face of Bavaria. The city is considered a World Heritage Site due to the presence of monuments such as its cathedral, built in the 13th century, or the Old Town Hall, a building dating from 1386. One of its most famous areas is 'Little Venice', a district surrounded by canals of extraordinary beauty. Book a home in the centre of one of these cities so you don't miss a thing!
Did you know that on the flag of Munich, capital of Bavaria, a monk appears because the city was founded by a group of religious?
Top 5 Recommendations in Bavaria
1. Don't miss Neuschwanstein Castle
Built in 1866, its silhouette has become one of the most typical prints of Bavaria. The building is an idealistic view of the traditional castles of the Middle Ages and inside you can enjoy the incredible Throne Room.
2. Walk the Marienplatz
This place is the real centre of the popular city of Munich. Monuments such as the New Town Hall or the Santa Maria Column stand in one of the busiest and most traditional places in the city, so you should take advantage of the rentals in Bavaria to visit it.
3. Visit the Alpsee Lake
On the outskirts of the city of Schwangau lies one of the most important natural wonders of Bavaria. This is the beautiful Alpsee Lake, a place where you will enjoy the tranquillity of nature and many outdoor activities.
4. Discover the Eagle's Nest
This building in the high Bavarian mountains near the town of Berchtesgaden offers incredible views and serves to learn about some of Germany's most recent history, so you should not miss it.
5. Enjoy German beer and cuisine
The Bayerische Staatsbrauerei Weihenstephan is the oldest brewery in the world, having been in operation since 1040. This serves as proof to understand the importance of this drink in the cuisine of the region. But dishes such as Semmelknödel or Pfannkuchensuppe, which you can try in restaurants such as Andechser am Dom in Munich, are also not to be missed.
FAQs: Holiday Homes & Rentals in Bavaria
On average, what was the cost for holiday homes in Bavaria in 2020, during the period hit by the pandemic?
You have chosen the most budget-friendly region in the whole country, at only€113.13 per night (2020 data).
What time of year offers, on average, the best holiday rental prices in Bavaria?
Those who want to be budget-friendly should travel to Bavaria in November, October, and January the cheapest months of the year, with average prices of €108.12, €108.79, and €111.17 per night, respectively, based on data collected in 2020.
When does the price of holiday rentals in Bavaria go up the most?
Following the data observed in 2020, the costs per night for accommodation is usually higher, on average, during the months of July (€119.01), August (€118.73), and February (€114.69).
Should I plan a trip to Bavaria well in advance?
It is recommended that you book your stay in plenty of time when visiting Bavaria, as only 36% of our accommodations are usually available throughout the year.
Which months offer the highest availability?
In 2020, the months with the largest number of properties available in Bavaria were March, April, and January with average availabilities of 57%, 53.75% and 53%, respectively.
When are there fewer rental options available in Bavaria?
The months with the lowest properties available in Bavaria are, in order, August, July and September, with respective average availability figures of 10.6%, 13.25%, and 20.25%, based on data collected in 2020.
How many homes are available in Bavaria?
We have grouped together the offers from 63 different providers in Bavaria, so we can provide you with around 12000 properties. You're going to have a hard time choosing your favourite!
Holiday destinations in Bavaria
Holiday destinations nearby
Holidu compares hundreds of websites to find your perfect holiday letting for the best price.