Other holiday ideas and property types in Barcelona that might be interesting
Prices and availability
Current Holiday letting prices in Barcelona
€329 annual average
Oct
Nov
Dec
Jan
Feb
Mar
Apr
May
Jun
Jul
Aug
Sep
Average price per week
Current holiday letting availability in Barcelona
39% annual average
Oct
Nov
Dec
Jan
Feb
Mar
Apr
May
Jun
Jul
Aug
Sep
Percentage of available rentals
Barcelona, an iconic cosmopolitan city, famous for its groundbreaking architecture, stunning art and the Catalan Giants of FC Barcelona. A popular hotspot for visitors from around the world, Barcelona is a frontrunner regarding nightlife, aesthetics and for having a great city vibe. Find your perfect holiday apartments and villas located throughout with Holidu today!
Things to know about Barcelona
Discover Idyllic Side-streets to Bustling Playas with Holiday Homes and Holiday Homes located throughout Barcelona
Located at the heart of the fiercely proud region of Catalonia in north east Spain, Barcelona lies by the Mediterranean coast and is a haven for lovers of architecture, culture, weather, nightlife, sport and many other factors. Featuring grand parks throughout the city such as the fascinating and unique Park Guell with its tile covered sculptures which include the famous Casa Battlo structure, as well as a fantastic beach, there is no wonder that Barcelona is viewed as one of the most if not the most laid back cities in Europe where life is lived to the full. If you are looking for relaxing or bustling surroundings,
Barcelona caters for both needs: The city features a stunning and idyllic Gothic Quarter, in which architecture and the La Merce Basilica, dating back over hundreds of years is found – this area is perfect for relaxing strolls, peaceful surroundings for that peace of mind so many crave. To discover Barcelona to the fullest, there is no need to rent a car: With notoriously big traffic jams frequent throughout the city, walking or cycling is by far the best option. Not only is it suited to discovering picturesque Gothic side-streets, you also get to experience Barcelona's year round great climate.
Holiday Apartments and Villas located in Barcelona by Stunning Art and Catalan Customs
When it comes to things to do and places to see, Barcelona is among the top places in Europe. Art lovers flock here to visit Barcelona's stunning art exhibitions and museums – something the city of Antoni Gaudi and Salvador Dali is especially famous for. Barcelona is heavily influenced by the architectural and artistic genius of Antoni Gaudi in particular: Architecture throughout the city is largely Gaudi inspired, packed with wavy, colourful and extraordinary elements found nowhere else in Europe – discover this truly unique cityscape for yourself by finding your perfect holiday apartment with Holidu! Discover Barcelona's many art museums, including the Pablo Picasso Museum,
Miro Museum, and the MNAC Museum which is home to over a thousand years of Catalan Art to name a few: Art lovers have a countless range of museums and architecture to discover. After a day of discovering the fantastic sights, gain a literal taste for Barcelona and try some local delicacies: With many fish and pork based dishes such as Sarsuela and Faves a la Catalana to try out, indulge your taste buds before experiencing Barcelona's nightlife, renowned as one of the best in Europe. With many holiday apartments, villas and holiday homes located throughout Barcelona with Holidu, there has never been a better time to explore the city and discover the magic of Barcelona up close for yourself!
Top 5 Recommendations for your Perfect Barcelona Break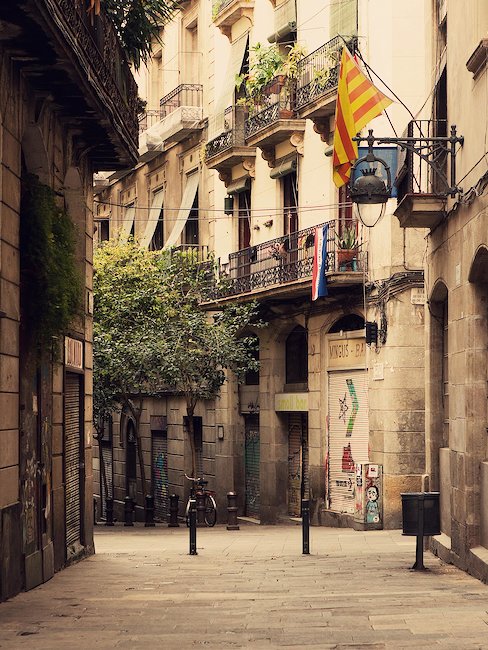 1. Barcelona is particularly famous throughout the world for calling itself home to the footballing giants of FC Barcelona who play at the magnificent Nou Camp stadium. With some of the best football in the world being showcased here and a stadium capacity of nearly 100,000 fans, take a tour of the Nou Camp to discover Barcelona's unique history or go to a game on match day! This is an experience you will surely never forget.
2. No trip to Barcelona is complete without visiting the world famous La Sagrada Familia church located in the heart of Barcelona. This magnificent structure designed by Antoni Gaudi is famously still being constructed since 1882 and is expected to be completed in 2026 – with this in mind, it is in fact open to the public and features towering spires and a stunning interior.
3. The locals have a saying, "If you can't find it in La Boqueria, you can't find it anywhere." The vast Mercat de la Boqueria market located by the famous Las Ramblas street is home to a unlimited number of stalls selling local fruits and vegetable, fish products, confectionery, cheese and other various meat products. Discover some unique local produce with a visit to the famous market!
4. Barcelona lies only a short hour and a half bus ride away from the famous Santa Maria de Montserrat Abbey, located on the multi-peaked and stunning Montserrat Mountain. The secluded and picturesque abbey is reached by a cable car or a rack railway and is perfect for a peaceful and a culturally experience during your stay in Barcelona!
5. With so many festivals taking place in Barcelona all year round, it is easy to assume that Barcelona is in a state of constant fiesta. It is difficult to pinpoint one festival in particular, but with that in mind, the Festa Major de Gracia taking place in August each year in the neighbourhood of Gracia features music performances round the clock, massive street parades with huge processions and a great all round carnival atmosphere!
Barcelona: Sun, Sea and Art with Holiday Apartments, Villas and Holiday Homes located throughout
With a huge portfolio of great art, stunning architecture, legendary sport and a fantastic beach, there is so much more to Barcelona than what could ever possibly fit into this description. Spend a day discovering some of the finest architecture found anywhere in Europe, watching FC Barcelona at the Nou Camp and partying the night away with arguably the best nightlife in Europe.
All of this is one click of a button away with Holidu's simple search function! Decide how many rooms your holiday apartment or villa should have, what facilities there are on offer such as a TV, a garden, a dishwasher, a pool and many other facilities available. Discover one of Europe's best cities and book your dream Barcelona accommodation today!
FAQs: Holiday Homes & Rentals in Barcelona
How much do the holiday rentals in Barcelona cost on average?
Based on our data, Barcelona has an average price of €202.80 per night, which is a relatively high one for a city in Spain.
When are holiday rentals cheaper in Barcelona?
If it is your aim to save the maximum amount during your visit to Barcelona, you should travel in January (€156.51 per night on average), November (€178.01), or September (€185.32) to find the lowest prices for the whole year.
When does the price of holiday rentals in Barcelona go up the most?
When you look at renting a holiday home in Barcelona, the highest prices are usually seen in the month of May (with an average of €248.7 per night), followed by April (€248.16), and February (€206.69).
Do I need to plan a trip to Barcelona well in advance?
So you don't run out of accommodation options in Barcelona we recommend you to be proactive, as 61% of rentals are usually booked, according to last year's data.
What time of the year can I find more available holiday rentals?
The months when it's the easiest to find available accommodation in Barcelona are June (the average amount of properties that are free reached 50.75% of the total in 2020), September (47.75%), and May (45.8%).
Which months is it more difficult to find available rentals?
The months with the lowest properties available in Barcelona are, in order, February, January and March, with respective average availability figures of 23.2%, 25%, and 26.25%, based on data collected in 2020.
How many holiday homes are there in Barcelona?
We have collected the offers from 41 different providers in Barcelona, so we can offer you around 3800 properties. You're going to have a hard time choosing your favourite!
Holiday destinations nearby
Holidu compares hundreds of websites to find your perfect holiday letting for the best price.