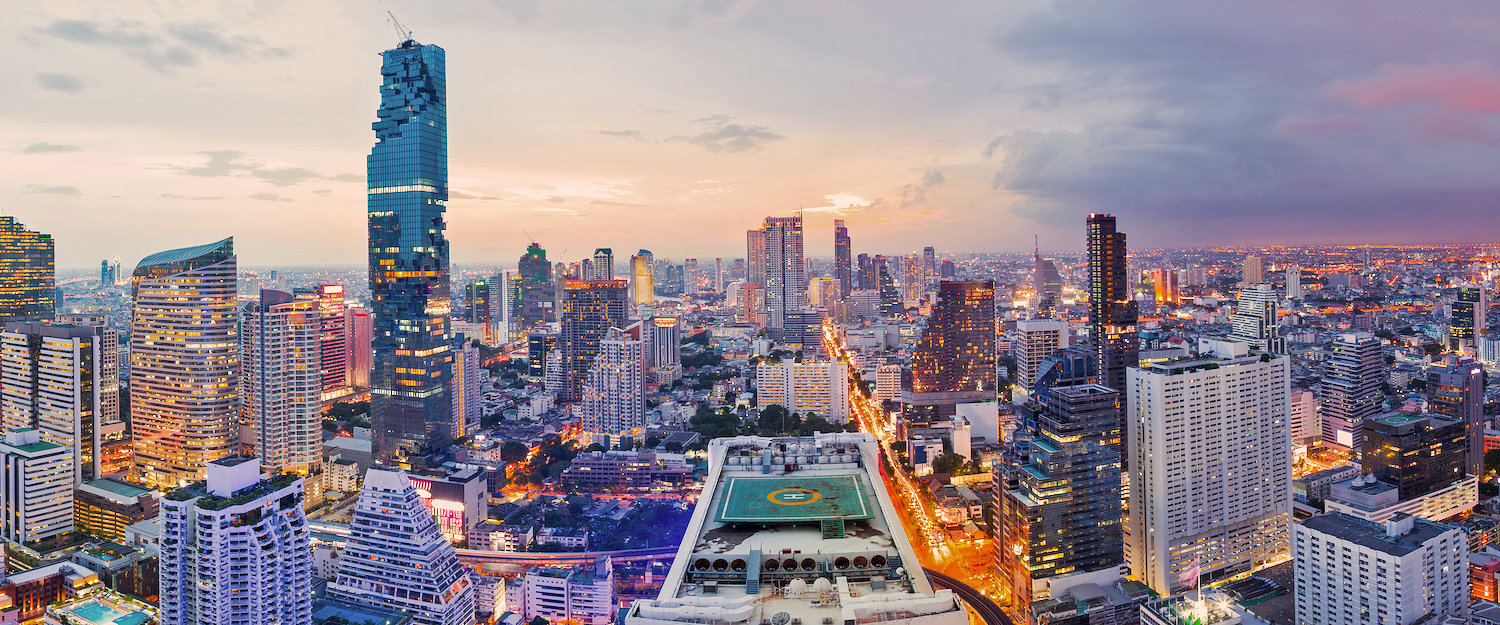 Prices and availability
Current Holiday letting prices Bangkok
€150 annual average
Jun
Jul
Aug
Sep
Oct
Nov
Dec
Jan
Feb
Mar
Apr
May
Average price per week
Current holiday letting availability Bangkok
27% annual average
Jun
Jul
Aug
Sep
Oct
Nov
Dec
Jan
Feb
Mar
Apr
May
Percentage of available rentals
Holiday homes and rentals in Bangkok
Bangkok, a city of contrasts
Bangkok is a vibrant, colourful vast city and here is a little help to help you decide where you can base yourself. Siam Square is where you will be close to the best markets and luxury shopping centres. Sukhumvit is an area with top facilities, a wide myriad of top-notch eateries and a vibrant nightlife. Khao San Road is ideal for backpackers but it is also close to many of the city's main attractions. Chinatown is less touristy but still vivid and hectic with great markets stalls everywhere. Rattanakosin is Bangkok's old town and a historical area with most of the historical attractions including Buddhist temples, monuments, palaces and museums. Thonburi is on the west bank of the river and it's a neighbourhood with relaxed vibes and true Thai culture and a great area to explore the waterways and floating markets.
Idyllic stays in a cosmopolitan and exotic destination
From cheap to luxury accommodation, Bangkok caters for every traveller's needs. The city is an oasis for urban lovers who look for holiday homes in the heart of a busy area but also a paradise for those who dream of a more private property with a rooftop terrace, skyline views and carefully decorated interiors. The hospitality is a charm added to your stay and your pets are also welcome to stay. Space for couples, solo travellers, families and groups of about 10 friends who are looking for a vibrant and multicultural urban stay in an exotic city.
Holidays in Bangkok
The area and getting around
A cosmopolitan destination
Bangkok, the city capital of Thailand, is a multicultural metropolis of contrasts where everyday life of the locals' city life collides with the exotic. It is home to huge shopping centres right next to little homes or any of the hundreds of gold-spired temples. The tuk tuks with tourists share the road lanes full of buses and cars moving slowly and honking away as they go. Walk around Bangkok will allow you to see lots of busy street markets, neon-lit strips full of shops, street vendors and food stalls in every corner. You do not go to Bangkok to have a three course meal but to snack and try several Thai nibbles. The skyscrapers overlook the city and make it look very cosmopolitan and yet a traditional destination.
Same, same, but different
You can move around the neighbours and discover the beautiful Buddhist temples and visit them, respecting the rules. Explore the hidden markets on a boat trip, wander the narrow streets of Chinatown, watch some monks buying the latest trends in mobile communications or take the Skytrain, known as BTS, and head to Sukhumvit to immerse yourself and enjoy local nightlife. Take the train and move a few miles out of the city to explore wonderful temples and interesting sites outside the city. It will take you back to ancient times! As you can see, Bangkok is a unique destination to add to your list. Discover the city with the moto: "Same same, but different".
Travellers and activities
Bangkok for beach lovers
Thailand is well-known by its picture-perfect beaches of crystal clear waters and long strips of white sand fringed by palm trees and lush vegetation. If you travel to Bangkok and you need a dose of sun you will definitely look for one of the stunning beaches Thailand is known for. Those beaches are more in the south of the country or on certain islands but you can still have very good beaches you can go to just a few hours from the city. Get on a bus from Ekamai Bus Terminal and head to Bang Saen, 1.5 hours outside of Bangkok. Hua Hin is a busy area very popular amongst families. Cha-am is a bit closer than Hua Hin but also really enjoyable. A bit further south, you find an exotic paradise of calm in Pranburi. Start thinking where you are going to take care of your tan!
Bangkok for temple lovers.
Thailand has impressive temples around the country that captivate and draw travellers from all over the world. The golden domes, the tall spires and the contrast of bright colours of the shrines decorated with flowers and scented with incense are an image of the real Bangkok that most visitors are looking for. You can see the stunning Grand Palace, where the Thai king is based. Admire Wat Arun, also known as the temple of Dawn, one of the most recognised silhouettes in the country. Wat Phra Kaew, commonly known as the Temple of the Emerald Buddha is regarded as the most sacred Buddhist temple in the historical centre of the city but also in Thailand. The marble temple Wat Benchamabophit Dusitvanaram is a Buddhist temple of high gables, stepped-out roofs and elaborate finials. The city is a hub of temples scattered all over and visiting some of them is a must in Bangkok. Explore the city and enjoy these marvellous and unique sites.
Did you know all the temples pictured on the Thai baht coins are in Bangkok?
Top 5 travel tips in Bangkok
1. Khao San Road
Khao San Road is a neon-lit busy street in the centre of Bangkok. This road about 1 mile long, is a cauldron of backpackers, street vendors, traditional items as souvenirs for tourists, restaurants, bars and loud music. The atmosphere is one of those you can hate or just love, but it is definitely worth a visit! It is close to the Grand Palace but not to public transport so the best way to access this area is by tuk tuk, bus or taxi. But don't just stay in Khao San and go explore the sidestreets (sois) which retain a real Thai feel.
2. Chatuchak market
Do you like haggling with vendors and find real bargains? The Thai markets are the place to go to! Bangkok has several markets around the city but the most famous one is the huge Chatuchak Weekend Market on Kamphaeng Phet 2 Road. People know it as JJ Market and it has more than 15,000 stalls divided into 27 sections where you can find clothes, essential oils, arts and crafts, accessories, Thai food, souvenirs and much more. This market is worth the hype for sure, so do not miss your visit and happy shopping!
3. The ancient ruins of Ayutthaya
The outskirts of Bangkok have some gems you must visit before you leave. Ayutthaya is a city north of Bangkok with the impressive ruins of the old city, an archaeological site of palaces, Buddhist temples, monasteries and statues. The beauty of these buildings and the park where they are located is a major highlight during your stay. It can be easily visited on a day trip from Bangkok, either by train, bus or taxi.
4. The Khlongs of Thonburi
Thonburi was the old capital of Thailand. The area still remains quite untouched and locals spend their lives around the khlongs (canals) trading, selling and buying all sorts of fruits, veggies and goods in their wooden stalls. By long-tail boat you can explore the channels and get the feeling of their everyday life and way of living. The network of khlongs has been made by the locals themselves, including the well-known Khlong Mon and Khlong Bangkok Noi, lined with old shacks, dilapidated sheds and full of other locals on their boats selling shrimp crepes, some rice snacks and corn-on-the-knob.
5. Bangkok views from a rooftop bar
On the 63rd Floor of the State Tower there is the Sky Bar at Lebua Bangkok. Standing almost 250 metres above sea level it allows you to have breathtaking views of the Thai capital. The Sky bar also appeared in The Hangover Part II. Sip a Hangovertini cocktail made of green tea liquor or have a romantic dinner for two at Sirocco, one of the world's highest rooftop restaurants. And why not enjoy an amazing sunset with shades of red, orange and yellow as a backdrop of Bangkok's skyline?
FAQs: Holiday Homes & Rentals in Bangkok
How much do the holiday homes in Bangkok cost on average?
You have chosen the most affordable city in Thailand, at only€149.95 per night (2020 data).
When can you get the best deals on holiday rentals in Bangkok?
Those who want to save as much as possible should visit Bangkok in November, December, and May which are the months that offer the most discount, with average prices of €81.09, €94.36, and €115.35 per night, respectively, based on data collected in 2020.
When are holiday rentals more expensive in Bangkok?
In 2020, the month that had the highest annual average in Bangkok was January, with an average price of €322.29 per night. This was followed by February, with an average of €293.76, and March, with €179.38.
Is Bangkok a good location for a spontaneous getaway?
It is better to book your stay in plenty of time when visiting Bangkok, as only 39% of our accommodations are usually available throughout the year.
What are the best months for a spontaneous getaway?
The months when it's easiest to find available accommodation in Bangkok are May (the average amount of properties that are available reached 48.8% of the total in 2020), April (47.5%), and June (40.5%).
When are there fewer rental options available in Bangkok?
The months with the lowest properties available in Bangkok are, in order, January, February and November, with respective average availability figures of 29%, 33.4%, and 36%, based on data collected in 2020.
How many holiday rentals are there in Bangkok?
Holidu offers around 2000 holiday lettings in Bangkok from 8 different partners, so you will find the perfect type of accommodation you are looking for. We have everything you need!
Holiday destinations nearby
Holidu compares hundreds of websites to find your perfect holiday letting for the best price.