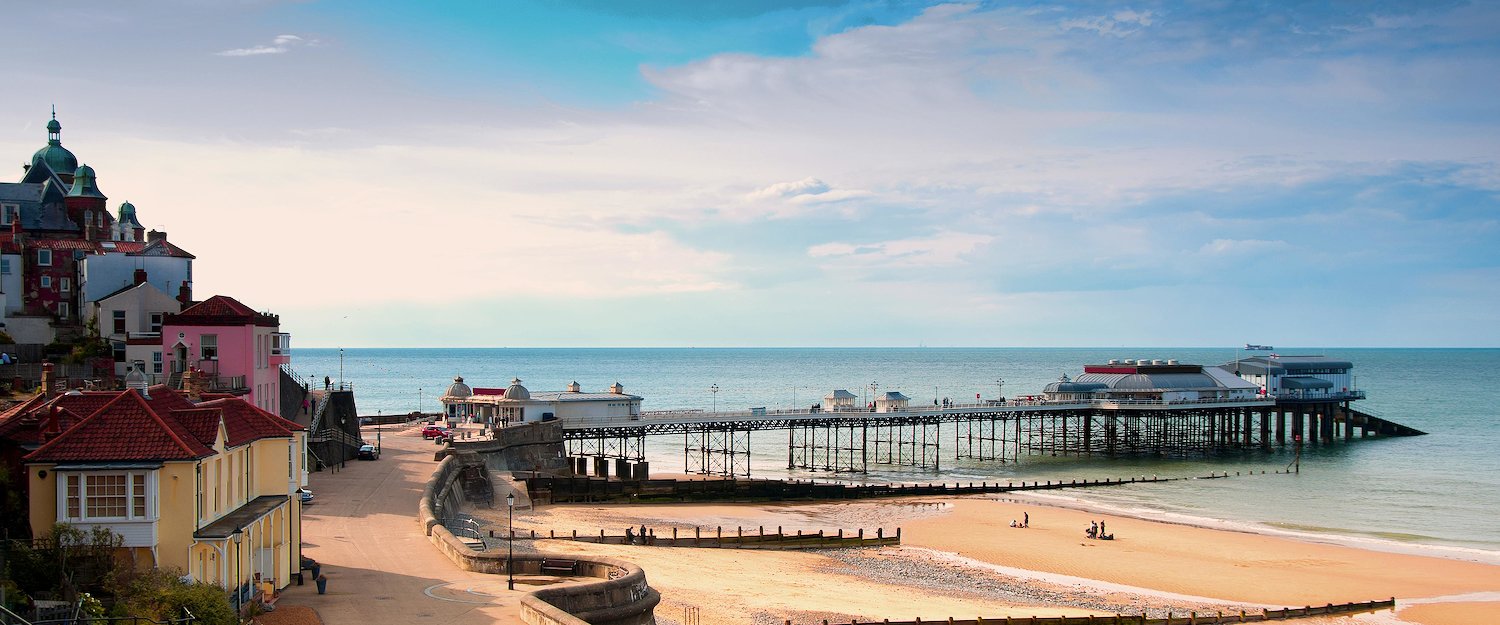 Prices and availability
Current Holiday letting prices Norfolk
€225 annual average
Apr
May
Jun
Jul
Aug
Sep
Oct
Nov
Dec
Jan
Feb
Mar
Average price per week
Current holiday letting availability Norfolk
32% annual average
Apr
May
Jun
Jul
Aug
Sep
Oct
Nov
Dec
Jan
Feb
Mar
Percentage of available rentals
With exceptional beaches, lively towns and cities as well as a beautiful countryside, Norfolk is an idyllic county renowned throughout the UK for its unique culture, great weather and seaside resorts. Discover your own personal side to Norfolk and book one of many great cottages, holiday homes or holiday homes available with Holidu today!
Things to know about Norfolk
Beautiful Countryside, Friendly Locals and a Great Coast: Discover Norfolk for yourself!
Norfolk is home to some of the most diverse landscapes found in any county throughout the UK, catering for a range of above all family friendly activities, from walks in the northern Norfolk countryside to days out at the beach. Featuring the famous seaside town of Great Yarmouth with its Pleasure Beach theme park, Sea Life aquarium to name a few attractions, Norfolk flaunts a fantastic coast with a diverse range of types of coastlines, beaches and nostalgic British seaside towns. Brancaster Beach in northern Norfolk for instance caters for dog friendly holidays with its extremely long sandy surface,
creating near unlimited space for activities with pets and the family! Norfolk also calls itself home to the Horsey Beach, a renowned hotspot for herds of seals which reside there – with many spectacular and diverse ranges of coastline present in Norfolk, there is a type of beach to suit anyone! A largely rural county, Norfolk is home to largely flat yet stunning landscapes, featuring the marshy landscape of The Broads lying next to Great Yarmouth as well as featuring the cultural hub of Norwich – explore Norfolk by car, bus or even by boat to gain a truly authentic first hand view of this great county!
Activities to do and Places to Discover with cosy Cottages and great Holiday Homes nearby!
Norfolk caters for many fantastic activities to do, whether you are interested in culture, want to get to know the coast or simply enjoy beautiful surroundings. Why not discover Norfolk up close by cycling the easy to navigate and flat terrain! Discover Norfolk's peaceful south with cosy cottages with thatched roofs dotted throughout, past lazy meadows and mysterious woodlands. The area is also easily explored on foot with many short and
long trails available – perfectly suited to hiking enthusiasts and families. Discover the unique marshy wetlands of The Broads by boat and discover picture postcard windmills, picturesque forests and even seals towards the mouth of the river! With so many fantastic family friendly activities available, Norfolk is a great choice for that getaway within the UK – book one of many cottages, holiday homes and holiday homes on show with Holidu!
Top 5 Recommendations to make the Most out of your Time in Norfolk
1. To discover some fantastic wildlife up close, visit Banham Zoo! Located in southern Norfolk, this zoo is packed with a range of birds, mammals, reptiles to enjoy with the family: Discover the unique Meerkat feeding experience and get up close with nature!
2. Fasten your seatbelts and hold on to something: Norfolk is home to the famous World Snail Racing Competition! Taking place in Congham in northern Norfolk for a day in July every year, snail enthusiasts flock from all over the UK to experience this strangely unique event as snails literally, "slug it out" for the winning prize of a box of lettuce.
3. You may be familiar with the fact that England is home to some fantastic ales and that whiskey is something produced in Scotland and Ireland – this is also the case in Norfolk! Whiskey enthusiasts will be excited by the prospect of visiting St. George's Whiskey Distillery in Roudham.
Discover the history of English whiskey distilling and take a guided tour of the premises – expect a sample or two throughout! The distillery sits directly by relaxing flat landscape dominated by, "Cricket Bat" willows which lead down the river Thet, ensuring an all round great day out is spent here!
4. Discover some beautiful cliffs and breathtaking landscape by the sea by walking down The Norfolk Coast Path! With options from a relaxed stroll to 63 miles of trail available, the trail takes you past breath taking sandy beaches over wonderfully formed cliffs. Take in some stunning views of the North Sea and experience this trail for yourself!
5. No trip to Norfolk can be completed without a trip to the county's capital, Norwich. Experience the historic St. John the Baptist cathedral after a discovering a fascinating museum in the city with many friendly locals. Why not use Norwich as your base to discover Norfolk and book a cosy cottage or a fantastic holiday home here!
Fantastic Cottages, Holiday Homes and Holiday Homes in the Homely County of Norfolk
Norfolk offers a uniquely flat and intriguing landscape which can easily be toured by bike or on foot with the family, as well as offering fantastic sea side towns, beaches, wetlands and forests. There is much more to Norfolk than what meets the eye and with Holidu's user friendly search function ensuring users a simple display of many fantastic accommodations on offer,
there has never been a better time to discover Norfolk for yourself! All you need to do is decide how many rooms your accommodation should have, what facilities there should be available such as child and pet friendly facilities, a TV, a dishwasher, a garden and many more – Many great cottages and holiday homes are only one click of a button away with Holidu!
FAQs: Holiday Homes & Rentals in Norfolk
How much do you pay on average for holiday homes in Norfolk?
Norfolk is one of the cheapest destinations in the United Kingdom. The price of a holiday rental is around €136.70 per night.
Which month allows you to save the most on holiday homes?
If you would like to save the maximum amount during your visit to Norfolk, go there in March (€125.22 per night on average), January (€128.02), or September (€128.65) to find the lowest prices for the whole year.
In which months is it more expensive to rent a holiday rental in Norfolk?
It can be concluded, analysing the data for the year 2020, that the costs per night for accommodation is usually higher, on average, during the months of December (€167.14), November (€157.51), and October (€146.51).
Are there usually many holiday rentals available in Norfolk?
If you decide to discover Norfolk, we suggest organising your visit long before you go because it is usually very high in demand, with an annual average occupation of 81% in the year 2020.
Which months offer the highest availability?
In 2020, the months with more free accommodation in Norfolk were January, March, and February with average availabilities of 45%, 34.5% and 32%, respectively.
Which months is it more difficult to find available rentals?
The months with the lowest properties available in Norfolk are, in order, August, September and July, with respective average availability figures of 3.2%, 4%, and 8%, based on data collected in 2020.
How many homes are available in Norfolk?
Holidu has around 3100 properties in Norfolk, offered by 23 different partners.
Holidu compares hundreds of websites to find your perfect holiday letting for the best price.