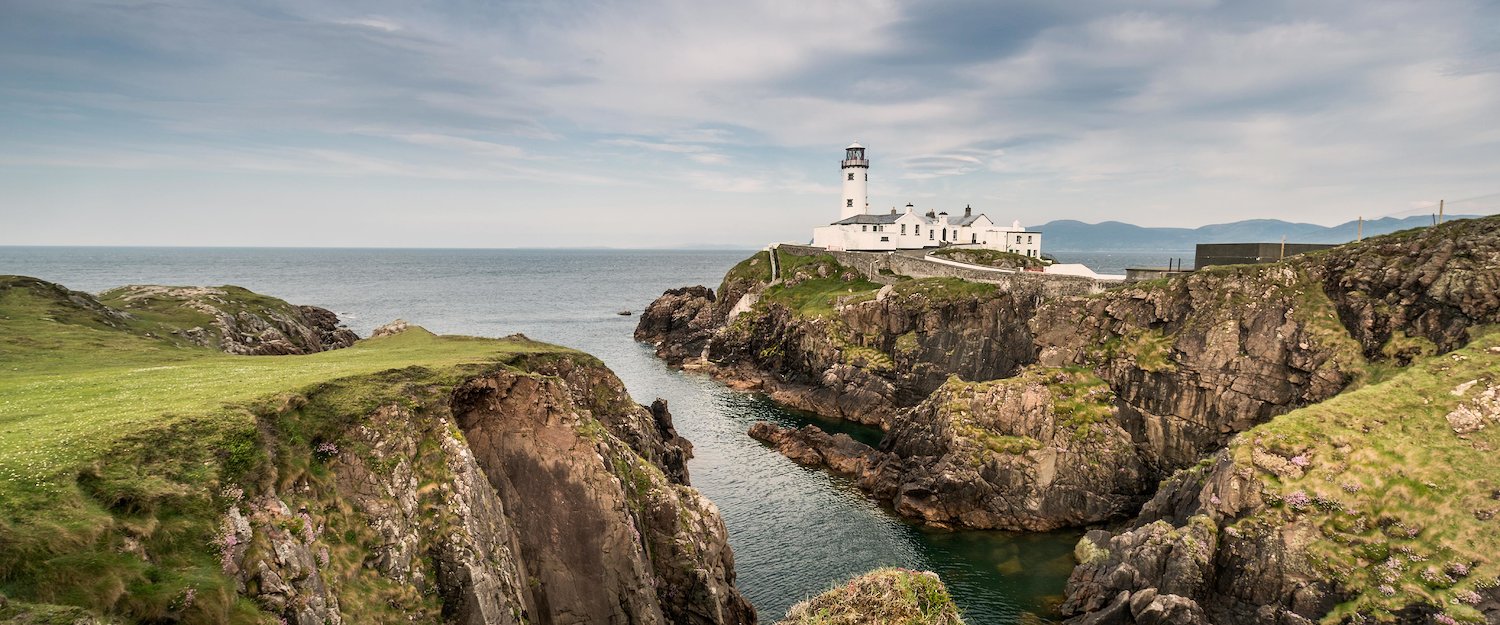 Cottages in County Donegal
114 properties for Cottages. Compare and book at the best price!
Popular Cottages in County Donegal
Find Cottages in County Donegal
Highlights in County Donegal
Beautiful beaches
Fresh air
Picturesque views
Harmonious, dreamlike climate
Gentle breezes
Most popular amenities for Cottages in County Donegal
Other property types in County Donegal that might be interesting:
Cottages in County Donegal
Have a dream holiday in County Donegal
How nice would it be to spend a few fantastic days of relaxation staying in County Donegal in Ireland? This county, which is very well located in the north-west part of the country, gives these lands a totally oceanic, but temperate climate, where it has the largest settlement which is Letterkenny. Find the best cottages in Glenties, Inishowen, and Lough Swilly. Donegal offers the beauty of its land to travellers, as well as attractions such as the Glenveagh National Park area. This nature reserve offers a fresh and green mountainous landscape, with forest and wetlands, where you can spend time with your family. Places to visit include Glenveagh Castle with all its Victorian elegance.
Cottages ideal for a comfortable break
County Donegal has cottages for couples and families to relax in, you'll be close to the beach, with the sand just a stone's throw from the flat you're staying in, often giving you the chance to take the romantic stroll you've dreamed of and watch the sunset over the beautiful mountains at the other end of the bay. You will also be delighted by the swirling celestial scenery. The cottages are carefully decorated to retain the Irish style that many love, with large fireplaces, stone flagstone floors, half doors, some with beams, but certainly have all the comforts such as: kitchens with dining areas for family breakfasts, from where you can watch the sun rise through the balcony door, with spacious rooms and comfortable lounges. Patios, gardens and green areas are also part of these splendid cottages.
Travellers and activities
County Donegal for monument lovers
Tourists travelling to Country Donegal should not miss the heritage and monument of Donegal Castle which was the walled and dwelling place of the O'Donnell's until the expulsion by the English at the Plantation of Ulster in 1609, It is worth noting that it has undergone significant rebuilding, but it is still the finest Gaelic fortress still standing. It's the place to be for travellers who love monuments and taking photos to create those precious memories that will last a lifetime!
County Donegal for meditation lovers [
To find the peace you need after the overwhelming stress of the daily routine, you can get it from the soothing sounds of nature, the fresh mountain air and the sea, where you can take your yoga and relaxation therapy sessions. There are many locations, including the beaches, where you can find yoga or meditation sessions, so you can clear your mind on this relaxing trip to Irish territory. Not to mention the nights of reflection, which can be done in front of a roaring, warm fireplace, this destination is ideal if you want to leave negative thoughts behind and start a new way of aligning your positive energies...
Did you know that Donegal topped The National Geographic Traveler's "cool list'' in 2017?
Top 7 travel tips in County Donegal
1. Enjoy the beauty and charm of County Donegal
During your stay in Ireland you can visit one of the most beautiful coastal locations in Ireland, where you can enjoy the beautiful scenery along the Moville Shore Path, where you can enjoy the freshness of the air and the majestic sound of the waves, which are ideal for meditation. Take long strolls in the morning or the afternoon and take in the stunning views.
2. Enjoy the pubs of Donegal town
The town offers to all visitors, a wide variety of entertainment, where you can appreciate the flourishing town of Donegal. Farren's Bar is a place with good food, where you will be served by very friendly people in an excellent atmosphere. Here you can taste the best Irish coffee, you can also have a drink if you wish. You can spend a very pleasant afternoon in the company of a group of friends in this excellent place. Olde Castle Bar in Donegal town or McCafferty´s Dungloe in Dungloe are also well-known local pubs. Cheers to Ireland!
3. Walk among the well known ruins of Grianan Of Aileach
You can appreciate the great love that Donegal has for its history, highlighting the well known ruins of Grianan Of Aileachque, you can appreciate the value that they give to their history. On this walk you will take away the images in your memory of your holiday in Ireland.
4. Let's learn a little more about Fort Dunree Military Museum
It is interesting to know that Fort Dunree, Dun Fhraoigh means "Fort of the Heather". This site of historical importance to the Irish is today a site of great beauty and extensive wildlife that you should visit. You can also enjoy the Guns of Dunree Exhibition with your family or group of friends in the Wildlife Discovery Room, where you can enjoy a coffee break while taking in the scenery, snorkelling, kayaking and coasteering.
5. Learn more about Ireland's past
If you are a lover of antiquity and history, you can visit Beltany Stone Circle, when you get to the bronze age stone circles, you will appreciate the silence and tranquility that you can feel there, very suitable for meditation, breathing fresh air and have a lovely cup of tea. In addition you can enjoy the wonderful view from the place. These stones are from approximately 2100-700 BC and it is said that it must have been a sacred place of the same neolithic monuments. It's a good site for a bit of archaeology.
6.Let's sample some new flavours
You can experience the foodie customs and flavours of their local Donegal Ireland food which is plant based, they have a variety of options including The Narrow Quarter Bistro and Coffee House in Carrowkeel. Here you have the option of gluten free, vegan and vegetarian food. There is also Farren's Bar Pub and you will get Irish food, wifi service, attention to people with disabilities among other services. These are some of the best visitor labelled places to enjoy with friends or family.
7.Outdoor walks
Go for a walk in Glenveagh National Park, where you can see 16,000 acres of beautiful and majestic natural scenery, ideal for long walks to release tension. Here you will have everything beautiful that nature has to offer.
FAQs: Cottages in County Donegal
Which types of amenities are available at the cottages in County Donegal?
When looking at the facilities available on Holidu, it seems that the cottages in County Donegal contain everything that holiday-makers need! Here, the cottages generally have a variety of amenities, the most popular being: Wi-Fi (58%), garden (47%), and view (27%)...Not bad, right?
How are the reviews for the cottages in County Donegal?
On average, the cottages are pretty highly rated. According to the Holidu data, 21% of cottages have a rating average of 4.5 stars. This is a fairly high percentage which allows us to confirm that there are many which are very enjoyable and will be the perfect choice for your next holiday.
Are the cottages in County Donegal suitable for families with children?
Judging by the Holidu database, 16% of cottages in County Donegal are suitable for families with children, it should therefore be very easy for you to find the perfect cottage for you and your family.
Are the cottages in County Donegal pet-friendly?
Of course! In County Donegal, 51% of the cottages accept them, 47% also have a garden!
Do the cottages in County Donegal generally come with an internet connection?
According to Holidu's database, around 58% of cottages in County Donegal include an internet connection, a rather high percentage!
How much do guests usually expect to pay for cottages in County Donegal?
A big percentage of cottages in County Donegal (71%) in general cost less than €100 per night. Therefore, this destination is perfect for booking an affordable cottage!
Do the cottages in County Donegal typically have a fireplace?
Definitely! According to Holidu's data, many cottages in County Donegal have a fireplace. Therefore, it is the perfect destination for a winter holiday!
Are the cottages in County Donegal suitable for trips with the whole family or rather for a weekend break as a couple?
According to the data collected last year by Holidu, 92% of cottages are perfect for families with up to four travellers. Approximately 91% of the cottages here include at least two separate bedrooms. County Donegal is the ideal destination for taking your little family on holiday!
Holiday destinations nearby for Cottages
Holidu compares hundreds of websites to find your perfect holiday rental for the best price.