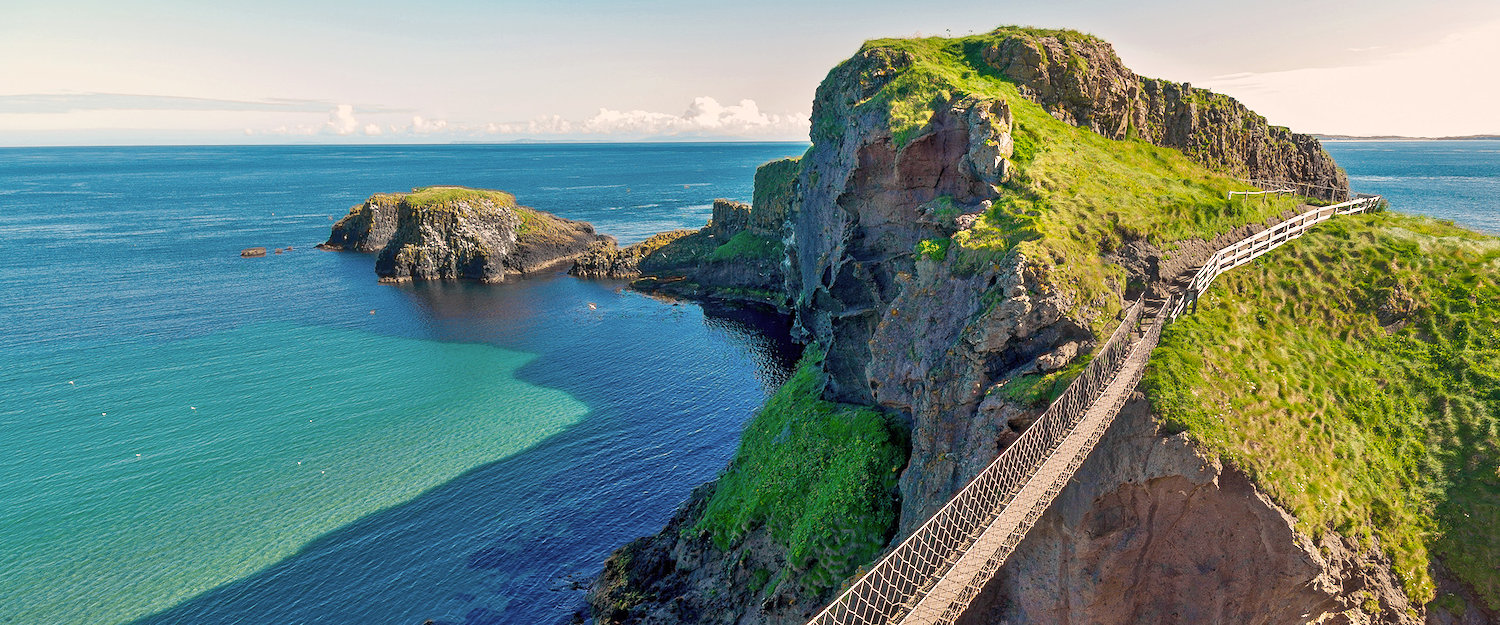 Glamping in Antrim
6 properties for Glamping. Compare and book at the best price!
Popular Glampsites in County Antrim
Find Glamping in County Antrim
Highlights in County Antrim
Natural landscapes
Historical monuments
Beautiful lakes
Colourful gardens
Most popular amenities for Glamping in County Antrim
Other property types in County Antrim that might be interesting:
Glamping in Antrim
Comfortable and homely glamping sites for a relaxing holiday
The north of Ireland is like a fairytale, with breathtaking scenery, natural wonders and magical locations. If this is what you're looking for on your holiday, the town of Antrim is sure to be a great travel destination you won't want to miss. From UNESCO-designated World Heritage Sites, an array of awe-inspiring castles, and a well-established whiskey culture, there's no way you can't enjoy a trip to this small part of the world. And what better way to enjoy this experience than by staying at the various glamping sites available. Glamping is a very practical but comfortable way to travel, and in Antrim, you'll find nice, spacious and homely glamping sites that will immediately make you feel at home.
Beautiful glamping sites with everything you need
Despite their size, you won't have to sacrifice comfort, as these glamping sites have everything you need for your trip. You'll be able to stay connected, as most of them have Wi-Fi, they also accommodate around 4 people without any problems, and have basic appliances for your personal use. In addition to this, many of these accommodations have the advantage of beautiful terraces or well-kept gardens, perfect for relaxing in the comfort of your glamping site. Are you ready to experience all that Antrim has to offer? Don't wait any longer and book your glamping site!
Travellers and activities
Antrim for nature lovers
There is no doubt that nature in Antrim is what attracts visitors to this part of Northern Ireland every year. A first stop is Murlough Bay, one of the county's most beautiful bays, which you're sure to love exploring. Its location is remote so you won't find a crowded atmosphere, but rather something quieter and more peaceful. It's framed by large rocky walls and decorated with lots of greenery and leafy groves, besides you'll find yourself with a stunning view of the calm sea. Another option to consider is the Tardree Forest, a great location for a walk surrounded by incredible nature. This forest is actually one of the oldest in Ireland, with around 336 hectares in size, very popular with those who enjoy hiking, but don't worry if you are a beginner, the slope is not too challenging and the steep slopes are not too difficult to cross either.
Antrim for culture lovers
Also in Antrim you can venture to sites of cultural and historical interest, especially the monuments that can be found here. First up is the fascinating Shanes Castle. This is a ruined castle that has existed since 1345, and was once the home of the Irish royal family of the O'Neills. Although time has played a major role in the deterioration of its architecture, it still retains much of its original structure. Stroll through its vast green areas and discover the different zones and passageways that were once used by Irish royalty. Another option to visit is the interesting Antrim Round Tower, which is a reminder of an ancient monastic settlement in this part of Ireland in the 10th century. It is around 91 feet high and was used as a place of refuge from raiders, but today it is a popular tourist attraction in Antrim.
The climate in Antrim is generally warm and temperate. However, there is constant rainfall throughout the year.
Top 7 travel tips in Antrim
1. Visit the fantastic Antrim Lough Shore Park
This park is located on the banks of Lough Neagh and is a popular tourist destination due to its natural beauty and recreational facilities. Throughout the year you can enjoy the various events that the council organizes, such as boat races, but you can also come just to relax, have a picnic and enjoy the scenery.
2. Take a stroll through Antrim Castle Gardens
This beautiful garden complex has been existing for 400 years, with a wide variety of flower and plant displays. At the same time, this interesting garden combines architecture with nature, with stone structures, and beautiful details that give a different and special aura to the green areas.
3. Discover the Mill Race Trail
Continuing with the natural places you can find in Antrim, this beautiful 1.6-mile trail is sure to suit your tastes. You'll be able to enter it for free, receive information about the trail at the information centre, and enjoy the route which passes through places such as Salmon Leap Bridge and the ancient mill and village of Boghill.
4. Travel to beautiful Ram's Island
You can take a boat to reach this interesting island, and once there you can experience a variety of nature, wildlife and interesting history. It was also once inhabited by the Irish royal family of the O'Neills in the 19th century, but today it is a popular tourist resort. It is about a mile long and is framed by lush trees and has many ruined monuments throughout the area.
5. Make a hole in 1 at Massereene Golf Club
Founded in 1895, this is one of Ireland's finest golf courses, so if you're a fan of the sport you won't be disappointed. Located on the shores of Lough Neagh, here you can enjoy beautifully manicured courses that are framed by beautiful countryside. And don't worry, whether you're an amateur or a pro, there are different courses designed to suit your needs.
6. Enjoy a fine whiskey at Old Bushmills Distillery
This famous distillery has been existing since 1608, when it was granted a distilling licence by King James I. On the tours here, you will have the opportunity to see the processes and tools used to make a high-quality whiskey, as well as the different aromas and flavours that can be created from its ingredients. So if you are a fan of this drink, there is no better place to learn about its history and production.
7. Spend the day at Benvarden Gardens.
This beautiful and intimate garden is sure to delight you. With its romantic aura and beautiful displays of flowers and plants, this garden is one of the best kept in the whole country. Built in 1630 by the Montgomery family, it has established itself as a rather fine gem of a garden, with extensive grounds that stretch to the banks of a river, and are a delight from start to finish.
FAQs: Glamping in County Antrim
Which types of amenities can you expect to find at the glampsites in County Antrim?
In regard to the amenities available on Holidu, it seems that the glampsites in County Antrim have everything that holiday-makers desire! Here, the glampsites generally include a variety of amenities, the most popular being: view (82%), garden (82%), and barbecue (73%)...Are you convinced yet?
How are the glampsites generally rated in County Antrim?
The glampsites in this destination are often well reviewed. 82% of the glampsites in County Antrim have an average rating of 4.5 stars!
Are the glampsites in County Antrim suitable for family holidays?
Judging by the Holidu data, 82% of glampsites in County Antrim are child-friendly, it will therefore not be difficult to find the perfect glamping for you and your family.
Are the glampsites in County Antrim suitable for holiday-makers and their pets?
Of course! In County Antrim, 18% of the glampsites give you the opportunity to bring along your furry best friend, 82% also have a garden!
Do the glampsites in County Antrim often offer an internet connection?
Of course! According to the data collected last year, 64% of glampsites in County Antrim offer an internet connection. This means that you will be able to access your emails and favourite social media sites at any time!
How much does it usually cost for glampsites in County Antrim?
According to Holidu's data, there don't seem to be many glampsites in County Antrim costing less than €100 a night.
Do the glampsites in County Antrim usually come equipped with a fireplace?
Definitely! According to the data collected last year, a good amount of glampsites in County Antrim have a fireplace. Therefore, it is the perfect destination for a winter trip!
Are the glampsites in County Antrim suitable for trips with several people or rather for an escape as a small group?
According to Holidu's data, 100% of glampsites are made for only two guests. So this is the ideal destination for couples on holiday. Ready for an escape together in County Antrim? Don't delay to book!
Holidu compares hundreds of websites to find your perfect holiday rental for the best price.