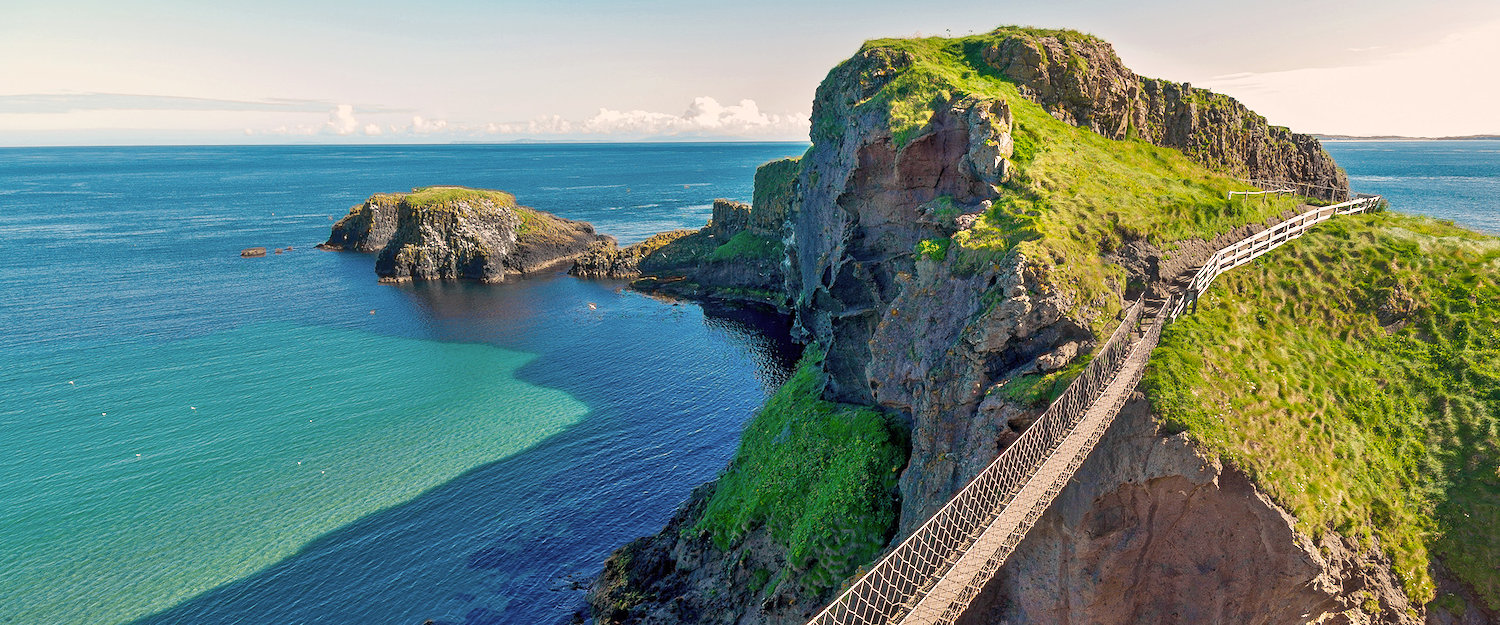 Other property types in County Antrim that might be interesting:
Popular Destinations in County Antrim
Prices and availability
Current Holiday letting prices in County Antrim
€231 annual average
Jun
Jul
Aug
Sep
Oct
Nov
Dec
Jan
Feb
Mar
Apr
May
Average price per week
Current holiday letting availability in County Antrim
48% annual average
Jun
Jul
Aug
Sep
Oct
Nov
Dec
Jan
Feb
Mar
Apr
May
Percentage of available rentals
Holiday homes and rentals in County Antrim
A scenic holiday in nature
County Antrim is a region in Northern Ireland filled with incredible natural landscapes and striking beauty which has inspired folklore, literature, and TV shows for centuries. Discover the breathtaking nature of the area with walks, drives, and bicycle rides. County Antrim is home to the vibrant and lively city of Belfast, which you can explore on foot and discover the many pubs and shops throughout the urban centre The region is famed for its whiskey-production, and you can do a self-guided tour of all the whiskey distilleries around the area. Follow walking paths to magnificent cascading waterfalls. The opportunities here to experience the magic of Northern Ireland are endless! County Antrim is the ultimate holiday destination for anyone who wanting to discover nature, history, and true Irish culture.
Find an idyllic holiday home in County Antrim
Holiday homes in County Antrim offer a true taste of the beauty of the region. You can find holiday homes in a wide range of styles, sizes, and locations, with a little something for every type of traveller. Stay in a rental with a sea view to watch the waves crash into the cliffs while you sip on your morning tea. Find a traditional home with charming historic design features to embrace the local culture. Couples can opt for a holiday home with a hot tub or a sauna to relish some much-needed quality time. Whichever rental you choose, you'll be sure to find all the comforts and amenities you could ever need during your holiday in County Antrim.
Holidays in County Antrim
The area and getting around
Arriving in County Antrim
If you'll be flying into Country Antrim, the area is served by Belfast Airport which offers regular domestic and international flights. Once you reach the airport, you can use the airport's express bus or a taxi to reach your holiday home. You can also hire a car at the airport, which is highly recommended during your holiday in County Antrim. If you'll be travelling in your own car, you can take the ferry to Belfast from Liverpool. The ferry ride takes only about an hour between Liverpool and Belfast. If you're planning to visit County Antrim from the Isle of Man, you can also find ferry trips to Belfast.
Getting around Country Antrim
There are several options for getting around County Antrim. In order to completely discover and conveniently navigate your way around the area, it's highly recommended to travel by private car. Car hire companies are available at the airport or in the city of Belfast. If you prefer not to drive, you can rely on getting around by bus. Taxis and shuttles are also available for getting around in some places.
Travellers and activities
County Antrim for history buffs
County Antrim offers a wide variety of attractions for history buffs to enjoy. Visit Whitehead Railway Museum to learn about the history of trains and railways in the area. There are volunteers at the museum who can help you book a guided tour of the museum. Also, be sure to pay a visit to Ulster Aviation Society to learn about the history and features of the various aircraft models there. There are special rooms which showcase information about historic aircraft battles. The friendly volunteers provide a wealth of information to visitors.
County Antrim for nature enthusiasts
County Antrim is a paradise for people who love nature. Visit Antrim Castle Gardens to enjoy the lush green surroundings and serene atmosphere. The massive gardens allow each visitor to feel secluded and at peace in nature. After you spend some time exploring the picturesque grounds on foot, you can sit at the café for a cup of tea and a piece of cake. Another place nature enthusiasts can't miss out on is Glenariff Forest Park. Enjoy a leisurely walk through the woods here along the well-maintained trail. The walk can be steep at times, so be sure to wear proper walking shoes. The lovely waterfall at the end of the walk makes it all worth the effort.
The original Titanic ship was built in County Antrim, and it took 15,000 workers 26 months to build it.
Top 5 travel tips in County Antrim
1. Visit Dunluce Castle
Dunluce Castle is home to some medieval castle ruins in a picturesque location. Walk around the castle grounds to soak in the magnificent views and to visit the areas where the former residents of the castle slept, ate, and lived. Don't forget to bring your camera to capture the rugged beauty of the area.
2. Go for a walk at Blackhead Path
Blackhead Path offers spectacular walking paths with scenic views of the coastline and lush natural surroundings. The path is well-marked and clear the whole way. There's also a picturesque lighthouse you can visit which offers panoramic views of the coastal area.
3. Visit Cushendun Village
Cushendun Village is a charming little community with quaint houses and a beautiful shoreline. The village is mostly famous for being one of the filming locations of the Game of Thrones television show. Spend an afternoon exploring this village on foot while you enjoy the calm atmosphere and discover some of the famous Game of Thrones filming locations.
4. Visit Giant's Causeway
Giant's Causeway is one of the most unique places you can visit in Northern Ireland. It boasts incredible rock formations and magnificent coastal views. Go for walks to explore the rugged wildness of the area and to take in one of the most dramatic and stunning landscapes you will ever come across. You can purchase a guidebook here to learn more about the history and Irish folklore surrounding this special place.
5. Go on a tour at Bushmills Distillery
The staff at Bushmills Distillery take their job very seriously to produce some of the best, top quality whisky in the area. The distillery uses pure spring water, which greatly enhances the flavour and quality of their whisky's. Do a tour of the whisky-making facilities here to learn all about the process. The best part is that you can sample their delicious whisky's afterwards!
FAQs: Holiday Homes & Rentals in County Antrim
How much do you pay on average for holiday homes in County Antrim?
With an average price of €136.19 per night, County Antrim lies at the lower end of the price range for holiday homes in the United Kingdom.
When are holiday homes cheaper in County Antrim?
Travellers who want to be budget-friendly should travel to County Antrim in March, February, and January which are the months that offer the most discount, with average prices of €122.95, €123.35, and €125.21 per night, respectively, based on data collected in 2020.
When does the price of holiday rentals in County Antrim go up the most?
When you look at renting a holiday home in County Antrim, the highest prices are usually seen in the month of July (with an average of €151.08 per night), followed by August (€146.22), and June (€143.22).
Are there usually many holiday homes available in County Antrim?
If you decide to discover County Antrim, we suggest planning your visit ahead of time because it is usually very high in demand, with an annual average occupation of 60% in the year 2020.
Which months offer the highest availability?
January, February, and April are, in order of highest to lowest, the months that present the largest number of accommodations available, with respective average availability figures of 58%, 48% and 47.5%.
When are fewer holiday homes available?
The months with the lowest properties available in County Antrim are, in order, August, July and September, with respective average availability figures of 21.8%, 28.75%, and 33%, based on data collected in 2020.
How many holiday homes are there in County Antrim?
We have 800 properties for you in County Antrim, provided by our 8 local and international partners.
Holiday destinations in County Antrim
Holiday destinations nearby
Holidu compares hundreds of websites to find your perfect holiday letting for the best price.