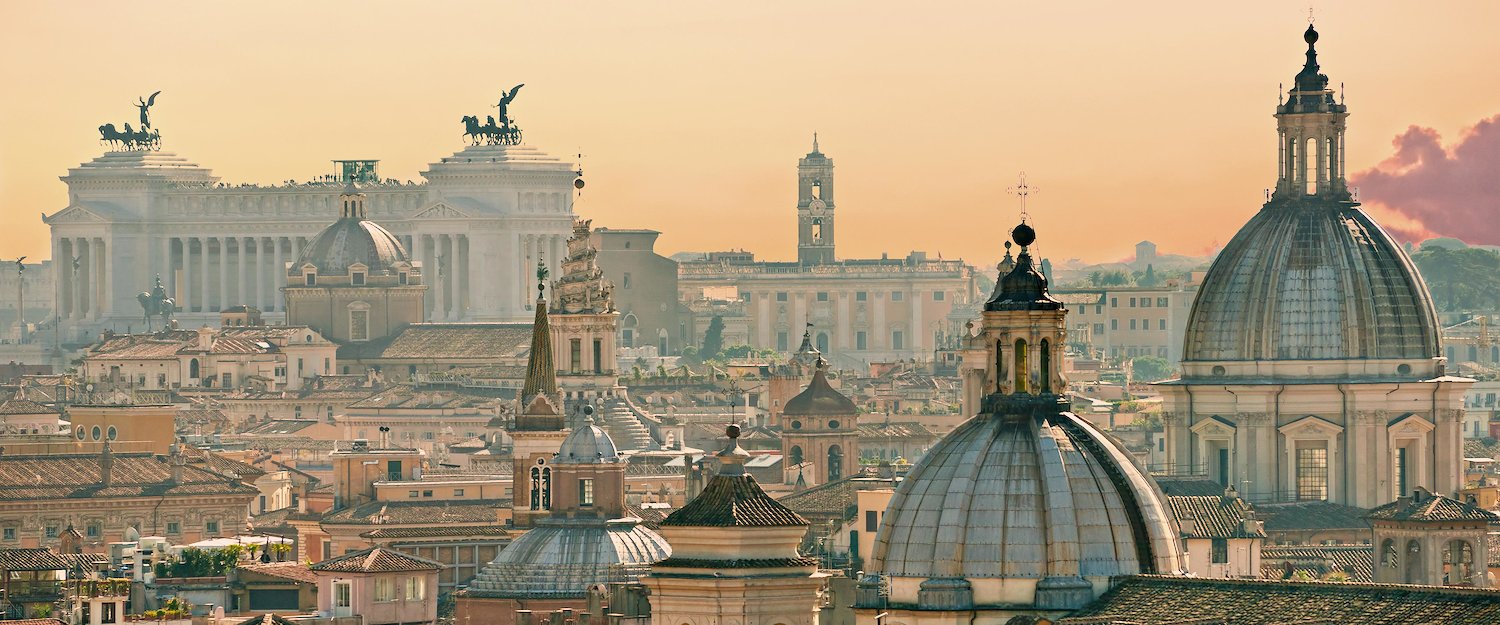 Villas in Rome
56 properties for Villas. Compare and book at the best price!
Find Villas in Rome
Highlights in Rome
Great historical monuments
Astonishing old museums
Beautiful squares and fountains
Remarkable temples and churches
Exquisite gastronomy
Best holiday lettings in Rome
Guests agree: these stays are highly rated for location, cleanliness, and more.
Most popular amenities for Villas in Rome
Other property types in Rome that might be interesting:
Villas in Rome
Magnificent villas in the beautiful capital of the world
Would you like to spend a splendid holiday in the oldest city in the world surrounded by beautiful and unique ancient historical monuments? Without a doubt, you should visit the spectacular Rome in Italy, where you will find wonderful and fantastic villas to enjoy all the beauties and treasures of Rome that no matter where you look or go you will be amazed with its ancient museums, fountains, monuments, picturesque neighbourhoods, churches, and temples more than 2000 years old and its incredible and exquisite gastronomy one of the best in the world. Known as the eternal city, Rome is an incredible place visited by hundreds of tourists throughout the year for its great historical, cultural and artistic attraction that will not disappoint you on this holiday.
Marvellous villas in the heart of Rome
In the charming city of Rome, you will find comfortable, spacious villas with antique style, either in the city centre or towards the outskirts, these incredible properties include beautiful and large gardens with outdoor furniture to enjoy the incredible Italian landscape of the surroundings where you can enjoy with your family and your pet, its bedrooms include everything you are looking for to rest with comfortable single, double or king-size beds with TV, cable and WI-FI, lovely bathrooms with hot tub to relax, large kitchen and dining room with all the dishes and utensils, also facilities such as microwave, stove, hob, toaster, coffee maker and much more, parking and proximity to bars, restaurants, shops and more is also included.
Travellers and activities
Rome for history lovers
One of the most annually visited attractions in Rome and one of the most iconic and important is definitely the Roman Coliseum, formerly known as the Flavio Amphitheatre considered one of the 7 wonders of the world, Although this spectacular stadium is in ruins, it still preserves a lot of its original construction and has survived fires, earthquakes, explosions, even bombings of the Second World War, and is considered an important part of the history of Rome and of humanity. The Colosseum was used by the emperors to manage and entertain the people of those days, gladiator fights, exotic animal exhibitions, and prisoner executions were held. The guided tours of the place are more than impressive, and it is full of curious and historical data told by the best guides, due to its high tourist attendance, reservations are recommended in advance for the visit to this historic place.
Rome for art lovers
The artistic and architectural beauty of Rome stands out on its own, it is enough to walk around the city to appreciate beautiful works of art in all its surroundings, making Rome a great open-air museum. However, if you want to know a little more about the art of this city, you should visit the Capitol Museum, located in Piazza del Campidoglio, there are two magnificent buildings to visit, the Palazzo dei Conservatori, (Palace of the conservators) and the Palazzo Nuovo, (New Palace), where you will find an incredible collection of paintings by famous artists such as Caravaggio, Tiziano, Tintoretto and many more, also you will find Roman sculptures and some of Greek origin such as the original figure of the Lupa Capitolina, the famous Venus and many more. To go from one building to another, visit the Galleria Lapidaria, an underground passage that connects both museums with many more works of art to marvel at.
In 1871, Rome was formally established as the capital of Italy, its predecessors were Florence and Turin. Life expectancy in Ancient Rome was approximately 35 years.
Top 7 travel tips in Rome
1. Make a wish at the Fontana di Trevi
It is one of the most beautiful, imposing and largest fountains in all of Rome with 26 meters high, it was built during the Renaissance in 19 BC and is one of the attractions highly frequented by its visitors, if you visit it at night you will be dazzled, as the views are even more spectacular. They say that if you throw a coin with your right hand into the fountain you can return to Rome and if you throw two you will fall in love with an attractive Italian. Annually a large amount of money is collected from the fountain and donated to charities.
2. Walk around Piazza Navona
It is one of the essential places that you must visit if you are in Rome, it is one of the most beautiful squares in the city, surrounded by beautiful palaces with great architectural beauty such as the Palazzo Pamphili, however the most interesting attraction you will find are its three incredible, amazing and highly decorated fountains, to the North the Neptune Fountain, to the South the Fountain of the Moor, and representing the most important rivers in Rome, the Fountain of the 4 Rivers. Additionally, you can find exquisite cafés and gelaterias to enjoy a delicious dessert or drink while you walk through the square.
3. Visit St. Peter's Square
It is one of the most important buildings in the Catholic region where the Holy See is located, a place where the Pope offers the most important liturgies of Catholicism. Its construction ended in the 15th century with a capacity of more than 20 thousand people, where several architects such as Michel Angel or Bramante participated, you can also find inside beautiful works of art such as Bernini's Baldachin, The statue of San Pedro, La Piedad by Michelangelo and many more. Although, one of the most popular attractions is the famous dome with 136 meters high, which has inspired other buildings in the world, from there you can enjoy the impressive views of St. Peter's Square.
4. Explore the Pantheon of Agrippa
It is one of the best preserved buildings of the Roman Empire today, it was built in 125 AD, with unique finishes and architectural details from ancient Rome, in this building its gigantic dome stands out, and its 16 towering columns in total, Inside you can find beautiful chapels that keep the remains of important personalities of that time such as the Renaissance painter and architect Rafael. You definitely cannot miss a visit to this place.
5. Enjoy the oldest art in the Vatican museums.
The Vatican Museums, owned by the Catholic Church, undoubtedly bring together the oldest and most important art collection in the world, in this place you can take a tour of the famous and spectacular Sistine Chapel of Michelangelo, where you will find his works of art magisterial, like the Creation of Adam, and the Last Judgment. Additionally, there are also pieces of art such as cartographic maps, the Bramante staircase and Rafael's rooms. This is one of the most visited places in Rome after the Coliseum, with more than 6 million visitors per year.
6. Stroll through Piazza di Spagna
This beautiful square is located among the most luxurious and famous streets of Rome, with a great variety of shops and restaurants to go shopping such as Via dei Condotti, Via Frattina and Via dei Babuino where artists and poets used to meet. Dare to climb the 135 steps of the famous staircase where you can appreciate the beautiful views of the place and the great Fontana della Barcaccia, the work of the artist Bernini, enjoy one of the best pizzas in Rome or a delicious tiramisu in any of its restaurants.
7. Explore the Roman Forum
In the Roman Forum you will find the ruins of buildings of more than 2000 years old that were once part of the heart of Rome, if you want to know even more about the history of ancient Rome and its empire you must take a tour of this spectacular place, where all the cultural, political, social and economic activity of Rome was developed. You can start the tour from the Palatine Hill where the ruins of the palaces of ancient emperors are located and where you can marvel at the incredible views of the entire forum.
FAQs: Villas in Rome
Which types of facilities can you expect to find in the villas in Rome?
In regard to the facilities offered by Holidu, it appears that the villas in Rome contain everything that travellers wish for! Here, the villas generally include a variety of amenities, the most popular being: Wi-Fi (79%), garden (72%), and air conditioning (71%)...Are you convinced yet?
How do travellers usually rate villas in Rome?
On average, the villas are quite highly rated. According to the Holidu data, 22% of villas have a rating average of 4.5 stars. This is a fairly high ratio which allows us to confirm that there are quite a few which are very enjoyable and will be the perfect choice for your next holiday.
Are the villas in Rome suitable for families with children?
Holidu's data reveals that 79% of villas in Rome are suitable for families with children, it will therefore not be difficult to find the ideal villa for you and your children.
Are the villas in Rome suitable for holiday-makers and their pets?
Definitely! In Rome, 36% of the villas accept pets, 72% even have a garden!
Do the villas in Rome tend to come with an internet connection?
Yes! According to last year's data, 79% of villas in Rome have Wi-Fi. So no need to panic, you will be able to browse the internet during your stay!
How much does it cost for villas in Rome?
According to the data collected last year, there don't seem to be many villas in Rome that are less than €100 a night. They can also be quite expensive, 20% even cost on average more than £500 per night.
Do the villas in Rome generally come equipped with a fireplace or a pool?
Definitely! According to last year's data, the villas in Rome have everything you need in summer and winter. Here, 44% are equipped with a fireplace and 39% a pool.
Are the villas in Rome suitable for holidays with the whole family or better for a holiday as a couple?
In Rome, based on last year's data, 48% of villas accept up to eight travellers, 42% of these villas have at least four bedrooms. But 90% of villas are also suitable for up to four travellers, 85% of the villas have at least two separate bedrooms. Rome is the perfect destination for large and small families!
Holiday destinations nearby for Villas
Holidu compares hundreds of websites to find your perfect holiday rental for the best price.