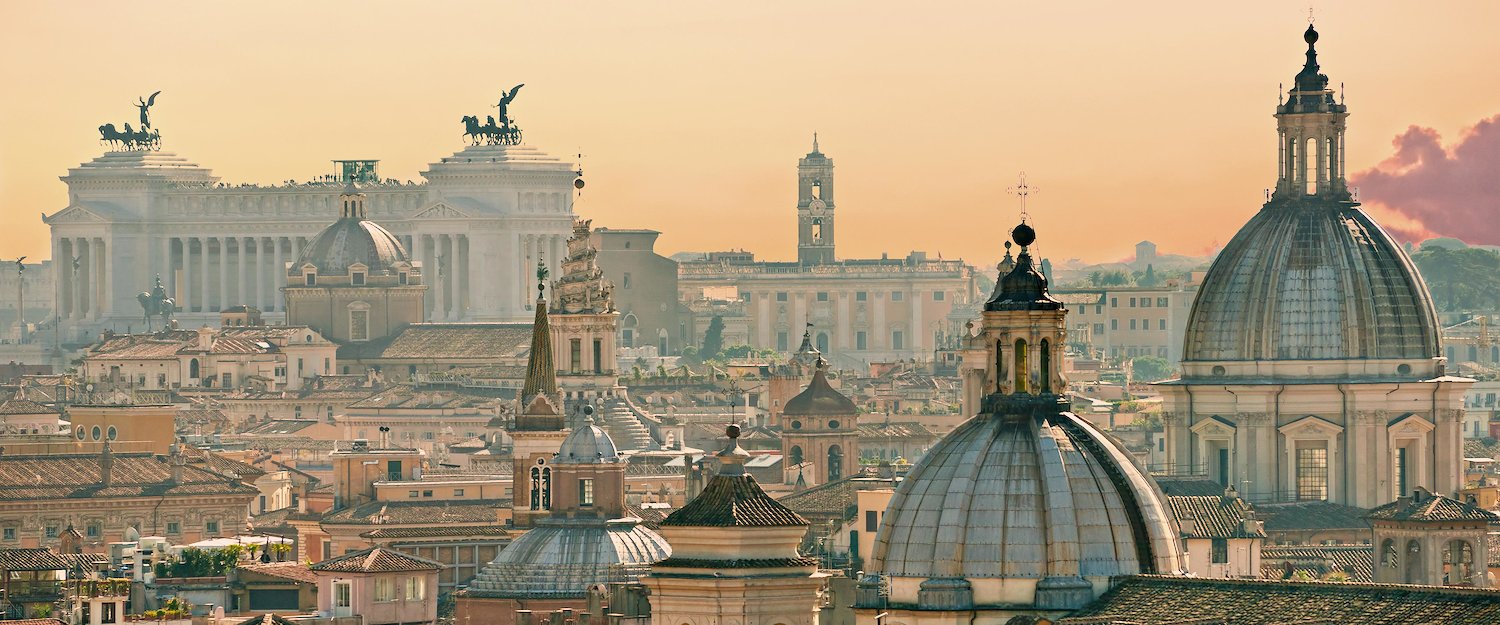 Other holiday ideas and property types in Rome that might be interesting
Prices and availability
Current Holiday letting prices Rome
€296 annual average
Oct
Nov
Dec
Jan
Feb
Mar
Apr
May
Jun
Jul
Aug
Sep
Average price per week
Current holiday letting availability Rome
53% annual average
Oct
Nov
Dec
Jan
Feb
Mar
Apr
May
Jun
Jul
Aug
Sep
Percentage of available rentals
Holiday homes and rentals in Rome
Where history is part of modern life
The ancient centre of Rome is an iconic global tourist destination that everyone has to see at least once. Many of Rome's traditional tourist spots are within its historic walls, and there are a wide variety of homes right bang in this central area. Come for the party? Homes in Trastevere have you right on the doorstep of the city's best bars. Seeking a local vibe? San Giovanni just outside the centre offers a slice of authentic Rome. Looking for memorable views? Choose a place to stay in Aventine Hill on a lofty hilltop location.
Urban living or spacious houses
If you want to be in the thick of it you are spoilt for choice with the variety of attractive and practical flats in this city suitable for both small and large groups. Designed to nurture you after a long day's sightseeing, these urban homes reflect the beauty of the city outside. For those looking for a garden and swimming pool, you'll need to step outside of the city centre, but only 10-15 out and sumptuous houses with gardens and a pool await you.
Holidays in Rome
The area and getting around
Feel the history of Europe
Rome is one of the world's oldest cities with 2,000-year-old buildings, art and structures in stunning condition. The city is bisected by the River Tivere, which winds through Rome roughly in a north-south direction. Vatican City is on the west side of the river, with most of the must-see sights on the east side. There is a hop-on, hop-off tourist bus which takes you around all the essential Rome highlights.
Shopping and eating
.You'll find the best shopping in Via Urbana with its design shops selling handmade crafts and clothing and Via del Boschetto with its vintage antique shops. For food and restaurants, Testaccio has the lot, from family-run trattorias to busy pizzerias and Michelin-star restaurants. Separate point: when visiting Rome make sure to buy your tickets from official websites in advance so that you don't need to queue on the day.
Travellers and activities
Rome for architecture lovers
As the centre of the great Roman Empire, Rome is a living, breathing history lesson. Starting with some of the world's most important monuments dating back over 2,000 years, a walk through Rome is a walk through time: the Classical era, the Middle Ages, the Renaissance and leading into modern times, there's something from each period of antiquity around every corner. Imagine the screams of the frenzied crowds in the Colosseum, or marvel at the grandeur of St Peter's Basilica.
Rome for hipsters
Bohemian Travastere is home to independent shops, cafes and trattorias and is the place to go for the unusual, the unique and the uncommon. And don't miss Madonna dei Monti which is probably the hipster area of Rome. Go there for its beauty and buzz, and at night join the young set enjoying beers by the fountain.
The Coins tossed into the Trevi Fountain add up to 1.5 million euros a year, which are donated to homeless charities!
Top 5 travel tips in Rome
1. Find love? Revisit Rome? Toss a coin!
]If you toss a coin into Rome's Trevi Fountain with your back turned to the incredible sculpture it is said that you will return to Rome. Toss two coins to meet your true love and three if your heart's desire is marriage! The sea god on the fountain isn't Neptune, but the Greek god Oceanus, ready to make your wishes come true!
2. Where budding gladiators gather
One of the world's most recognised landmarks, Rome's Colosseum, once host to the bravest and strongest, is listed as one of the 'New Seven Wonders of the World'. Damaged by earthquakes, it still cuts a remarkably imposing sight.
3. Gaze at the ceiling of the Sistine Chapel
Michelangelo's extraordinary masterpiece dominates the ceiling of the stunning Sistine Chapel. The images are painted to represent the Book of Genesis, with the Creation of Adam being one of the most iconic paintings of all time.
4. The Pantheon burial site
Despite its temple-like appearance, the Pantheon is actually the burial site of important Roman kings and inhabitants, including the famous artist Raphael. The Pantheon's roof features what was, until recently, the world's largest dome.
5. Gorge on pizza at Piazza Navona
The utterly gorgeous Piazza Navona is packed with delightful Italian eateries, all with tables with a view of the sublime art and sculpture of Bernini's Fontana dei Quattro Fiumi, a fountain displaying four river gods. So grab a seat in one of the many pizzerias, and take in the buzzing atmosphere of this vibrant part of Rome to the accompaniment of street artists and music.
FAQs: Holiday Homes & Rentals in Rome
What was the average price for a holiday rental in Rome in 2020, the first year impacted by the corona crisis?
Our data shows that Rome has an average price of €157.79 per night, which is a relatively high one under the cities in Italy.
Which month allows you to save the most on holiday rentals?
Travellers who want to save as much as possible should travel to Rome in January, February, and June which are the months that offer the most discount, with average prices of €136.94, €139.35, and €146.73 per night, respectively, based on data collected in 2020.
In which months is it more expensive to rent a holiday rental in Rome?
When it comes to looking for a holiday home in Rome, the most expensive months are, in descending order, April, May and August with average prices per night of €181.02, €180.95, and €166.03, respectively.
Is Rome a good location for a last-minute getaway?
Here, last-minute travellers are welcome, because the average availability in Rome is 55%, which is above the average in Italy, according to data from 2020.
When are more holiday homes available?
The best months to find available accommodation in Rome are May (the average amount of properties that are available reached 65% of the total in 2020), June (62.75%), and April (62%).
When are fewer holiday homes available?
The months with the lowest properties available in Rome are, in order, February, October and August, with respective average availability figures of 45.8%, 49.6%, and 50.6%, based on data collected in 2020.
How many holiday homes does Holidu have in Rome?
Holidu offers around 14000 accommodations in Rome from 45 different partners, so you will find the perfect type of accommodation you are looking for. We've got you covered!
Holiday destinations nearby
Holidu compares hundreds of websites to find your perfect holiday letting for the best price.