Popular Destinations in Cyprus
Other holiday ideas and property types in Cyprus that might be interesting
Prices and availability
Current Holiday letting prices Cyprus
€226 annual average
Oct
Nov
Dec
Jan
Feb
Mar
Apr
May
Jun
Jul
Aug
Sep
Average price per week
Current holiday letting availability Cyprus
58% annual average
Oct
Nov
Dec
Jan
Feb
Mar
Apr
May
Jun
Jul
Aug
Sep
Percentage of available rentals
With a large selection of villas, holiday homes and rentals, search for your perfect Cypriot getaway today with Holidu's simple search function. Whether you are looking for a walking holiday, a relaxing beach break or for some good nightlife – there is a side to Cyprus bound to please everyone!
Things to know about Cyprus
Discover rentals in Cyprus' Mediterranean sun
The Island of Cyprus offers a truly unique display and contrast of culture, ways of life and landscape - all packed onto a small Island in the Eastern Mediterranean located to the south of Turkey. Cyprus not only offers picturesque cities and reminders of history in the form of age old buildings, churches and mosques dotted throughout the Island, Cyprus is also home to some outstanding examples of natural beauty displayed in its landscape – towering mountains, stretching beaches and stunning cliffs. There are possibilities for all types of holidays here: from walking holidays in Cyprus' more mountainous rocky terrain in its north, a beach break in a more peaceful resort such as Paphos, or to celebrate the night away in Ayia Napa, Cyprus is suited to all types of holidaymakers. To explore Cyprus' mountainous Turkish dominated north if you are staying in Cyprus' Greek dominated south and vice versa, it is recommended to rent a hire car for the day, but do not pre-book however: You can get a much cheaper deal when already out there. Each side gives off its unique charm and feel that are incomparable to each other. With plenty of villas on offer north and south, there has never been a better time to book in Cyprus with Holidu!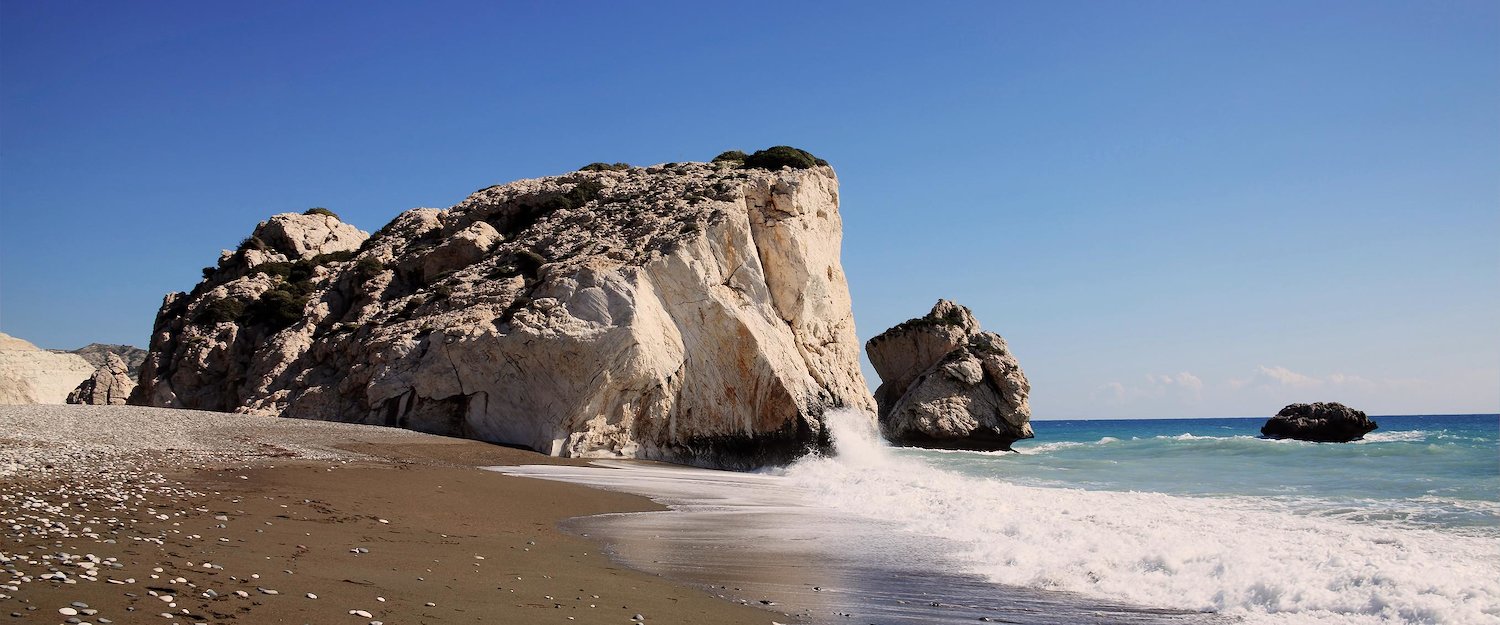 Great Villas and Holiday Homes: Discover Cyprus' north and south on this unique Island
Holidu offers countless stunning villas and holiday homes in northern and southern Cyprus, giving you the opportunity to explore either side. One aspect that both the Turkish north and the Greek south have in common, yet are contrasting is the presence of centuries old landmarks and ruins throughout the country. Whilst byzantine churches are omnipresent throughout the south, the north is dotted with ancient mosques and castles. However, Cyprus is united in its unique blend of cuisine influenced from not only Turkey and Greece, but also from French, Italian and Middle Eastern cuisine.
With appetising mezes, unique kebabs and an envious selection of Ouzo and raki on offer, why not try unique Cypriot cuisine to get a taste for your own personal Cyprus. When it comes to landscape, Cyprus doesn't disappoint: With many national parks and mountain ranges, walkers will find themselves in paradise with ideal terrain along with Cyprus' renowned great climate. Walkers and mountain bikers will be especially drawn to the Kyrenia Mountains in the north of the Island – these impressive peaks tower over Cyprus' northern coast and provide for stunning views of distant Turkey and the whole Island in good visibility. Book a villa today with Holidu!
The Top 5 Travel Tips to discover Cyprus: Villas and Holiday Homes throughout the Country
1. A must see attraction in Cyprus during your stay is the ancient Paphos Archaeological park with its ruins which seem to be frozen in time. Located on the Greek dominated south west of the Island, the site with its deserved UNESCO World Heritage Site label dates back to prehistoric ages up until the middle ages – with a contrast of beautiful untouched mosaic floors, Roman amphitheatres and columns, it truly is a sight to behold.
2. With Cyprus' stunning landscape, there are countless possibilities for great walking excursions with great views of the sea high up in the mountains. Why not book a villa in the Troodos mountains in the south or the Kyrenia mountains in the north and experience the breath taking views of Cyprus from high vantage points. The Kyrenia mountains tower over Cyprus' northern coast for 100 miles and are dotted with byzantine watch towers, mosques and castles – a truly unique mountain range.
3. Cyprus exhibits a large number of stunning beaches surrounding the country – book one of many beach side villas available today and discover a beautiful Cypriot beach for your perfect relaxing beach holiday. With the rocky nature of Aphrodite's rock and beach in Paphos, the stretching sandy Nissi beach in Ayia Napa and the cliff dominated Porto Pomos beach – there are villas available by various types of beaches to please every holiday maker.
4. Cyprus isn't just full of beachside resorts, stunning mountains and picturesque coasts: There are various great towns & cities to explore. Nicosia Famagusta and Limassol, all have picturesque old towns worth visiting – lose yourself in narrow side streets and discover local traditional Cypriot tavernas after a day spent walking in the mountains or relaxing at the beach.
5. If you are planning on staying on the Greek dominated south side of Cyprus, it may be worth learning a few Cypriot Greek words, which is distinctive from that in mainland Greece. This will really go down well with the locals and may even affect your overall restaurant bills: Cypriot Greek hosts are known to knock down prices of meals in restaurants if you make extra effort to immerse yourself in Cypriot culture and the language!
Discover a Villa in Cyprus with Holidu
With a strong cultural contrast, stunning landscapes and great weather all year round, Cyprus is a truly unique escape from reality. Use Holidu's simple search function to search for villas, holiday homes and holiday homes to fit you! Choose whether your accommodation should have a pool, a garden, a TV, Internet access,
a dishwasher, child friendly facilities, how many rooms there should be and much more. With opportunities for mountain biking and walking in its mountain ranges, soaking up great nightlife or a simple relaxing beach holiday with the family; Cyprus offers something for everyone. Book a stunning villa today with Holidu!
FAQs: Holiday Homes & Rentals in Cyprus
On average, how much do holiday homes in Cyprus cost?
At an average price of €153.66 per night, Cyprus lies at the upper end of the price range for holiday rentals in Asia.
When are holiday rentals cheaper in Cyprus?
According to our most recent historical data, the months at the lowest possible cost in Cyprus are February, January, and March, with average prices of €112.39, €115.72 and €118.29, respectively.
When are holiday homes more expensive in Cyprus?
When it comes to looking for a holiday home in Cyprus, the months when it is most expensive are, in descending order, July, August and June with average prices per night of €227.92, €196.57, and €183.14, respectively.
Are there usually many holiday homes available in Cyprus?
Considering the figures observed in 2020, it is an excellent country for a last-minute escape, since it has an average annual availablity of 61%, which is relitavely high.
When are more holiday homes available?
The months that offer the most accommodation options, on average, are January (with an availability of 69%) April (68.25%), and November (67.75%), according to the trends observed in 2020.
When are fewer holiday homes available?
Holiday homes in Cyprus reach their peak in demand in August, with an availability rate of 42.8%. The second most requested month is July, with 53.25%, and the third is October with 59.2%.
How many holiday homes are there in Cyprus?
Holidu offers around 9600 holiday rentals in Cyprus from 24 different partners, so you will find the perfect type of accommodation you are looking for. We have everything you need!
Holiday destinations in Cyprus
Holidu compares hundreds of websites to find your perfect holiday letting for the best price.