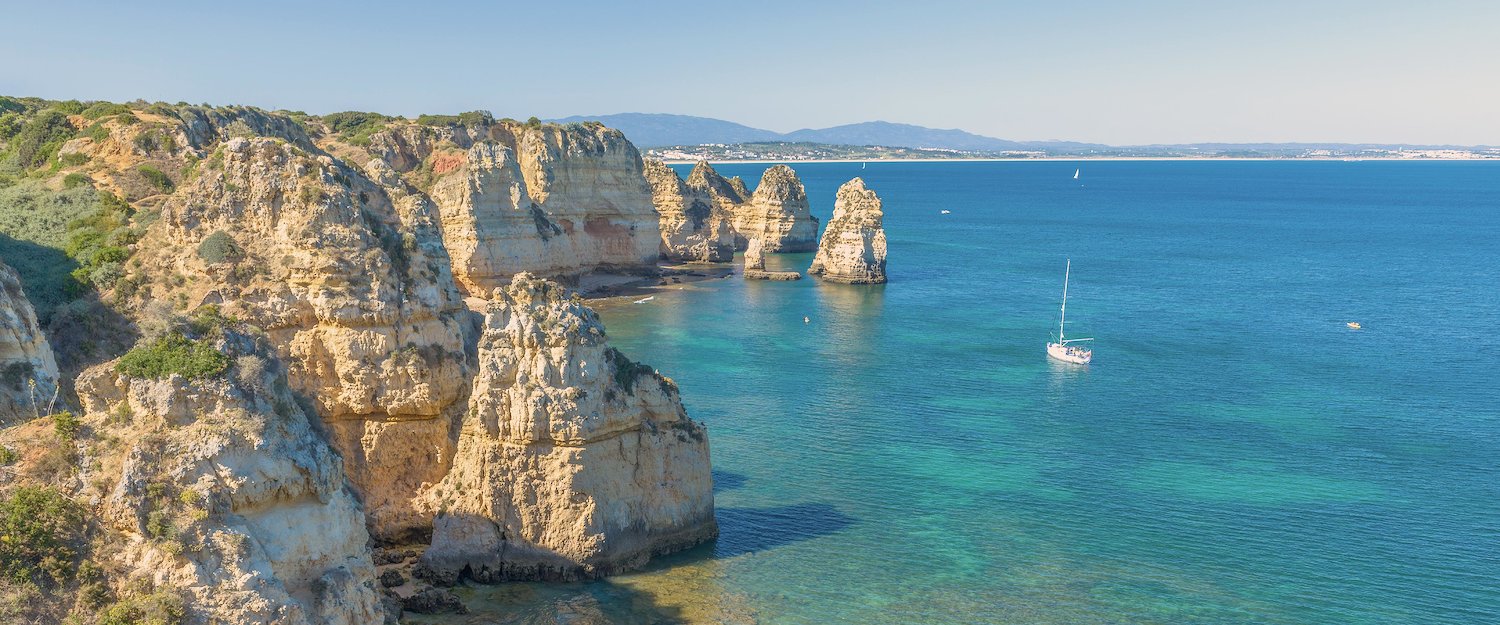 Other property types in Vale do Lobo that might be interesting:
Prices and availability
Current Holiday letting prices Vale do Lobo
€355 annual average
Jun
Jul
Aug
Sep
Oct
Nov
Dec
Jan
Feb
Mar
Apr
May
Average price per week
Current holiday letting availability Vale do Lobo
53% annual average
Jun
Jul
Aug
Sep
Oct
Nov
Dec
Jan
Feb
Mar
Apr
May
Percentage of available rentals
Holiday homes and rentals in Vale do Lobo
Experience a glamorous holiday in Vale do Lobo
Holidu invites you to enjoy a place full of style and comfort, so if you are looking for luxury in the Algarve, but luxury with good taste, then you have to visit Vale de Lobo. An area of ​​pine forests where the English landed more than fifty years ago, making it one of the most exclusive holiday resorts on the continent, near a spectacular beach with golden sand.
Luxurious holidays rentals very close to the beach
Make the most of the experience of living together in a space full of luxury and comfort, where you can enjoy wonderful amenities that will make you feel like a Hollywood star. Enjoy a private pool, wonderful gardens, balcony, friendly atmosphere and views that will take your breath away. The design and infrastructure of these holiday homes were created to suit your wishes. Relax, and enjoy the best holiday of your life. Feel like a royal highness and renew your energies in one of these holiday homes. You deserve it!
Holidays in Vale do Lobo
The area and getting around
Get to know the Golden Triangle
The coastal strip belonging to the town of Almancil, between Quarteira and Faro, it is known as the golden triangle. An area made up of three vertices, Quinta do Lago, Vale do Garrao and Vale do Lobo, which conceals the international jet set in the south of the continent. It is not uncommon for many photos featured on the summer covers of Portuguese magazines to be taken here.
Enjoy the commercial areas of Vale do Lobo
Vale do Lobo has everything required so that you do not need to leave here. There are several commercial areas, including one facing the sea with a swimming pool for residents, children's spaces, a spa, distinguished restaurants and a prestigious Tennis Academy, which each summer brought together the great legends of this sport, McEnroe, Becker, Bjorn Borg or Vilas.
Travellers and activities
Vale do Lobo for shopping lovers
You don't have to be very lucky to find a parking space by the sea. From the car park, next to the miniature golf, a path takes you to the neuralgic point of urbanization next to the Atlantic, the Praça shopping centre, from which you go down to a beautiful beach that becomes clear in the section of the cliffs. You will love the place once you get there!
Vale do Lobo for golf lovers
Practice Golf; the Algarve is known as one of the best places to play golf, with its more than 300 sunny days a year, pleasant temperatures and impressive landscapes. Within the Algarve region, some of the best golf courses are found in the Golden Triangle. If you are a fan of this sport or are considering trying it, we recommend spending a morning enjoying the pleasure of playing golf on one of these wonderful courses.
Vale do Lobo was the impetus for high-class tourism in the Algarve, the result of the discovery of this 400-hectare site by the English, who opted for this paradise as a new holiday resort
Top 5 travel tips in Vale do Lobo
1. Enjoy yourself at Praia de Vale do Lobo
This is one of the most discreet beaches in the Algarve that has managed to stay away from the multitude of travellers who visit the region each year. The seawater takes on a warm blue colour that invites you to swim long and hard until your body can no longer resist. You will want to lose yourself in the beautiful blue of this ocean.
2. Go on a Buggy Safari
Have you wanted to take a buggy on off-the-beaten-track paths? In this place, you can have the opportunity to drive a buggy along the route of the Ría Formosa Natural Reserve, where various species of birds are seen on their migratory routes every year. You will discover part of the fauna of the place, and you will undoubtedly like this a lot.
3. Don't miss out on dolphin watching
Dolphin watching boat trips are among the most popular attractions in the Golden Triangle. This family-friendly activity will leave you with a smile on your face after watching these magnificent animals leap into the Atlantic. An unforgettable experience!
4. Enjoy Karts in Almancil
Almancil, one of the towns that make up the Golden Triangle, is known for having the oldest kart circuit in the Algarve. This epic track has provided many moments of happiness to groups of friends who chose to test their nerves and reflexes on the wheels of their karts.
5. The best time to visit Vale do Lobo
Summer is one of the best times to spend a holiday in the Golden Triangle. Temperatures rise and the sun shines with an intensity that fills the entire area with contagious joy. However, in winter you can spend a holiday in the Golden Triangle to escape the bitter cold that is felt throughout central and Northern Europe. The fall and spring seasons are ideal for visiting the Golden Triangle, as the temperatures approach those of summer, but at the same time stay away from the scorching heat of August.
FAQs: Holiday Homes & Rentals in Vale do Lobo
What was the average price for a holiday rental in Vale do Lobo in 2020, the first year impacted by the corona crisis?
With an average price of €332.37 per night, Vale do Lobo lies at the upper end of the price range for holiday homes in Portugal.
What time of year offers, on average, the best holiday rental prices in Vale do Lobo?
According to our most recent historical data, the months with the most reduced prices in Vale do Lobo are February, January, and November, with average prices of €254.92, €259.35 and €259.93, respectively.
In which months is it more expensive to rent a holiday letting in Vale do Lobo?
When it comes to looking for a holiday letting in Vale do Lobo, the most expensive months are, in descending order, August, July and June with average prices per night of €497.93, €470.81, and €363.7, respectively.
Are there usually many holiday homes available in Vale do Lobo?
To discover Vale do Lobo, you don't need to be very organised in advance. It has a high annual average availability of 63%, which allows you to be more flexible.
What time of the year can I find more available holiday rentals?
April, February, and March are, in order of highest to lowest, the months offering the largest number of accommodations free, with respective average availability figures of 78.75%, 78% and 76.25%.
When are fewer homes available?
According to data from 2020, the months when it is most difficult to find accommodation in Vale do Lobo are, in order, August (with 25.6% of available rentals), July (34%), and September (54.5%).
How many homes are available in Vale do Lobo?
Our inventory features approximately 590 properties from 13 partners.
Holiday destinations nearby
Holidu compares hundreds of websites to find your perfect holiday letting for the best price.