Popular Destinations in Portugal
Other holiday ideas and property types in Portugal that might be interesting
More Popular Destinations in Portugal
Prices and availability
Current Holiday letting prices Portugal
€199 annual average
Oct
Nov
Dec
Jan
Feb
Mar
Apr
May
Jun
Jul
Aug
Sep
Average price per week
Current holiday letting availability Portugal
59% annual average
Oct
Nov
Dec
Jan
Feb
Mar
Apr
May
Jun
Jul
Aug
Sep
Percentage of available rentals
Holiday homes and rentals in Portugal
Discover Portugal with a large selection of villas, holiday homes and holiday homes available to choose from. Use Holidu's simple search function to uncover dream villas or holiday homes today and explore Portugal's vast coastline, discover a beautiful city and immerse yourself in the vibrant culture!
Things to know about Portugal
Discover the Country of Contrast
With rentals and holiday homes in Portugal, there are countless possibilities to stay in the south-west of the Iberian peninsula. The country offers buzzing cities, impressive mountains and a coast which stretches for miles beside the Atlantic. Whether a sunny beach holiday, a hike in the mountains or a trip with the whole family – there is lots to discover for everyone. The cool north of the country is also known as Portugal's garden – you can expect beautiful hiking and cycle paths which draw you to an easy-going hiking or cycle holiday. The hillsides of the region are renowned for winegrowing and Portugal's inland mountains are ideal for climbers or hikers aiming to conquer new challenges. If you book one of the many villas, holiday homes or apartments in Portugal now, you will receive a comfortable accommodation to suit your tastes – you will have the unique opportunity to discover this fascinating country up close.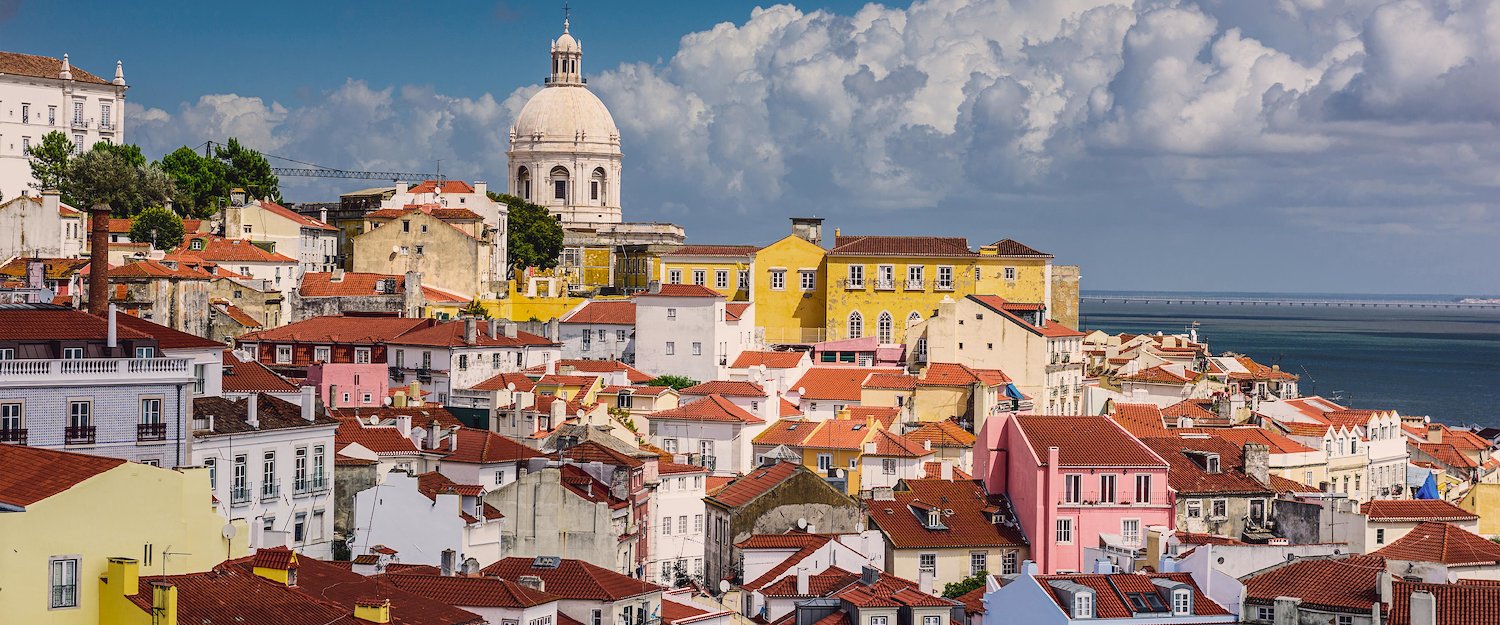 Holiday homes and rentals by the beach or in a city
Sandy beaches which stretch out for miles along the Atlantic coast await your arrival - a large variety of comfortable villas, holiday homes and holiday homes in Portugal can be found in the Algarve, which is especially popular among Britons and can be booked with Holidu. You can find yourself in this famous region, right by the nicest beaches in the country. Delicious delicacies from the sea greet you in tranquil restaurants when hunger strikes: Freshly caught fish, shrimps and muscles are merely examples of courses on offer.
Not only does Portugal offer tranquil beach destinations, the towns & cities certainly have a lot on offer as well. If you opt for one of the many stunning holiday homes and rentals in Portugal, then you have the possibility to discover a city which you can call home during your trip. The famous city great for shopping in Portugal, Porto for example, awaits you with historic buildings which date back to the days of British colonisation and voyagers. Portugal's capital city, Lisbon is also certainly worth a visit – Portugal's famous voyaging age is omnipresent here and it is renowned for its beautiful architecture. Make sure you have a camera, however, as you will certainly need it!
5 travel tips which shouldn't be left out when booking your Portuguese Villa or Holiday Home
1. The cities of Porto and Lisbon should, if possible, be placed on your list of places to view. Choose an apartment or a villa with immediate proximity to reduce the travel time.
2. The small blossomy Island of Madeira is ideal for golfing or for hiking trips. With a comfortable villa in Portugal, it isn't much of a challenge to get to the Island as ferries travel from various coastal towns and cities.
3. Book a villa in Portugal in the Algarve as this region has stunning beaches. Additionally, the region offers you a large portfolio of water sports - examples include surfing, water skiing and banana boating.
4. The south of Portugal is a paradise for divers. If you don't fancy making the journey by yourself, you should get into contact with a diving group and share your experience within a group. There are a number of diving schools for beginners who also offer courses for those on holiday.
5. During your stay in a villa or holiday home in Portugal, you shouldn't ignore the fascinating urban art which is displayed throughout Portugal. Whether on walls of buildings or as eye catching street murals – they are a permanent fixture of Portuguese culture.
Villas and Holiday Homes by the beach
Portugal offers the opportunity with its unique landscape and geographical position to allow you to escape from the everyday and rediscover yourself. With Holidu, you can conveniently search for countless villas, holiday homes and holiday homes available to suit your personal tastes and preferences. Decide on how many rooms your accommodation should have,
the location of your villa or apartment: whether you prefer a tranquil beach resort, a secluded getaway in the mountains or an apartment at the heart of the hustle and bustle of Portugal's cosmopolitan cities. Additionally, you have the opportunity to opt for a dream villa or holiday home with a pool, internet access, a TV and a garden with Holidu's search tool – rediscover yourself and book today!
FAQs: Holiday Homes & Rentals in Portugal
How much do you pay on average for holiday homes in Portugal?
Our data shows that Portugal has an average price of €133.49 per night, which is a relatively high one for a country in Europe.
Which month allows you to save the most on holiday homes?
If you want to save the maximum amount during your visit to Portugal, pack your bags and travel there in January (€103.41 per night on average), February (€103.78), or March (€109.84) to find the lowest prices for the whole year.
In which months is it more expensive to rent a holiday home in Portugal?
In 2020, the month that offered the highest average prices in Portugal was July, with an average price of €172.44 per night. This was followed by August, with an average of €168.69, and June, with €156.15.
Should I plan a trip to Portugal well in advance?
It is recommended that you book your stay in plenty of time when visiting Portugal, as only 54% of our accommodations are usually available throughout the year.
What time of the year can I find more available holiday rentals?
In 2020, the months with the largest number of accommodations available in Portugal were May, April, and November with average availabilities of 61.6%, 60.5% and 60.25%, respectively.
Which months is it more difficult to find available rentals?
The month with the highest average booked rental figures is August (only 35% of properties were available on average in 2020). Followed by July (47.25%), and September (52.75%).
How many holiday rentals are there in Portugal?
In Portugal we have a comprehensive catalogue of approximately 53000 properties, with options to suit everyone, thanks to our 105 local and international partners.
Holiday destinations in Portugal
Holidu compares hundreds of websites to find your perfect holiday letting for the best price.