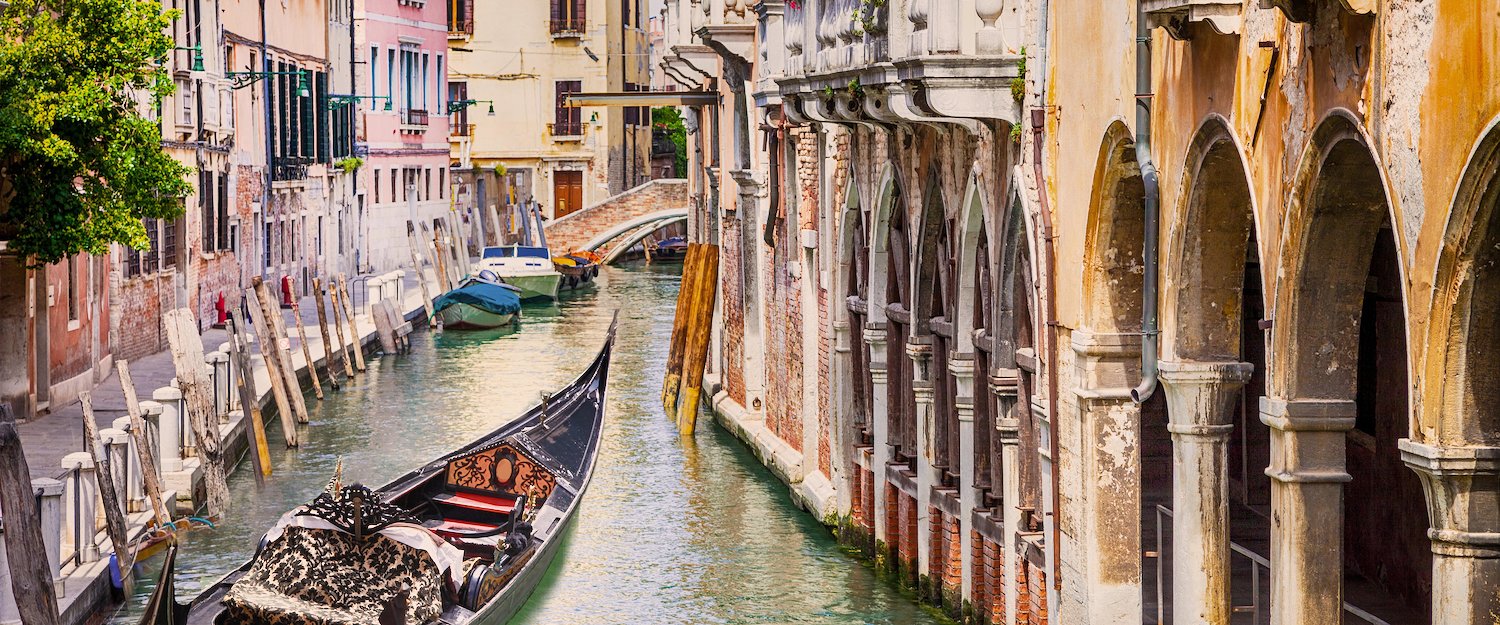 Prices and availability
Current Holiday letting prices Venice
€309 annual average
Oct
Nov
Dec
Jan
Feb
Mar
Apr
May
Jun
Jul
Aug
Sep
Average price per week
Current holiday letting availability Venice
55% annual average
Oct
Nov
Dec
Jan
Feb
Mar
Apr
May
Jun
Jul
Aug
Sep
Percentage of available rentals
Holiday homes and rentals in Venice
Memorable holidays in Venice
Venice is one of those rare places where you really, truly want to get lost. Strolling around its ancient stones, through its winding streets and narrow alleys induces a kind of wondrous fervour. If you want to stay right in the heart of the action, on the threshold of the landmark sights and vibrant nightlife, go for a holiday home in the San Marco or San Polo neighbourhoods. Head to Giudecca to beat the crowds – a stand-alone island with a very distinct personality. For the convenience of staying near the train station, looks for homes in the area of Cannaregio.
Stylish rentals for a city break
You are truly spoilt for choice with the variety of attractive rentals in Venice which are suitable for both small and large groups. Designed to nurture you after a long day's sightseeing, these urban homes reflect the beauty of the city outside. Picture a palazzo split on two levels, with enormous doors, original artwork, a view over the St. Mark's Square – it can be all yours here in this unrivalled city!
Holidays in Venice
The area and getting around
Discover Vienna's six sestieri
Since it was founded, Venice has been divided into six neighbourhoods, known in Italian as sestieri, two of which make up the central area. San Marco is the heart of Venice and houses most of the city's key landmarks, such as St. Mark's Campanile and St. Mark's Basilica. San Polo houses Venice's central market and is one of the liveliest areas in Venice, replete with stores, markets and top attractions. The east side of the district is the best place for the city's most striking palazzos.
Head out of the centre and see Vienna in all its faces
Dorsoduro in the south is home to the University of Venice. Packed with young people, this district is an artsy, trendy area just full of life and great bars and clubs. Cannaregio in the north is this authentic and less touristy area, and home to the Jewish Neighbourhood. It offers a unique, melancholy atmosphere and several synagogues. Santa Croce is located in the west of Venice and is the only neighbourhood in Venice where cars can travel. It is home to the large square where the central bus station is located. To see how the locals live, head to Vienna's sixth district Castello in the west.
Travellers and activities
Venice for fans of authentic food
If a restaurant has pictures of food or translations of dishes into multiple languages, be aware that it is aimed at tourists and is likely to offer higher prices and generic dishes. In Venice, the local tip is to look for 'bacaros' (taverns). These neighbourhood pubs offer simple fare, usually with handwritten menus. In these establishments you can feast on 'cicchetti', Venetian tapas-style finger food, including fried fish (such as calamari and sardines), mixed vegetables (called frittura mista) and traditional Venetian sandwiches.
Venice for couples
There's nothing more romantic in Venice than a cuddlesome gondola ride through its winding canals. Go for a gondola ride around sunset and watch the city soaked in pink and orange hues. Go together for a scoop of creamy and decadent Gelato from one of the myriad wonderful gelaterias, find a little corner in the city and watch the people go by as you indulge in the exquisite ice cream.
Between the end of the seventh century and 1797, the Republic of Venice was its own country, an economic powerhouse with huge influence in the Adriatic!
Top 5 travel tips in Venice
1. Feast on the view from Ponte di Rialto Bridge
Spanning the Grand Canal, this is Venice's most popular bridge. It affords a fantastic, iconic view of this city, and watching the gondolas and ferries travel the Grand Canal from this spot is enthralling.
2. Relax at Venice Lido
For a spot of relaxation and a great place to get away from the bulk of the tourists, the Lido is the place to go. It is a separate island that creates a barrier between Venice and the Adriatic Sea, and it boasts a wide and beautiful beach, in stark contrast to the busy streets and waterways of the city.
3. People watch from a pastry shop
Off the beaten track Gelati Nico is one of the finest pastry shops in Venice. Saddle up to the coffee bar and order your coffee with an exquisite 1-euro pastry. Order freshly squeezed succo d'arancia for the children and sit back and watch the locals pass by.
4. Head over to San Giorgio Maggiore
A small separate island not connected to the main canals of Venice, it is home to the epochal San Giorgio Monastery, the Church of San Giorgio Maggiore and a large campanile. Make sure to climb the latter for sensational views back across to the main city of Venice.
5. Take a morning visit to Rialto market.
Rialto Market is massive and wonderfully busy, open from 9 in the morning till 2 in the afternoon. Don't miss the seafood, with the Branzino being a highlight (Mediterranean sea bass). Have the fishmonger scale and fillet the fish for you, ready to cook up when you get back to your cozy holiday home after a long day's exploration of this inimitable city.
FAQs: Holiday Homes & Rentals in Venice
What is the average price for holiday homes in Venice?
Venice is the most exclusive city in Italy to go on holiday, with an annual average cost of €177.06 per night, according to 2020 data.
When can you get the best deals on holiday homes in Venice?
If you are looking to make the most of your money, the most budget-friendly months to visit Venice are November (€158.46 the average price per night for accommodation), January (€158.66), and March (€164.42).
In which months is it more expensive to rent a holiday rental in Venice?
Following the data observed in 2020, the costs per night for accommodation is usually higher, on average, during the months of May (€205.03), April (€199.16), and August (€181.56).
Are there usually many holiday rentals available in Venice?
When visiting Venice, it is not necessary to plan well in advance, as the percentage of rentals booked is only 40%.
When are more holiday homes available?
In 2020, the months with the largest number of properties available in Venice were April, May, and December with average availabilities of 70.75%, 67.8% and 67.67%, respectively.
During which months are there fewer rentals available in Venice?
Holiday rentals in Venice reach their peak in demand in February, with an availability rate of 45.4%. The second most requested month is August, with 48.8%, and the third is October with 53.8%.
How many holiday homes are there in Venice?
We have grouped together the properties from 32 different providers in Venice, so we can provide you with around 4500 properties. You're going to have a hard time deciding which one to go with!
Holiday destinations nearby
Holidu compares hundreds of websites to find your perfect holiday letting for the best price.